Using Technology to Unlock the Potential of People with Disabilities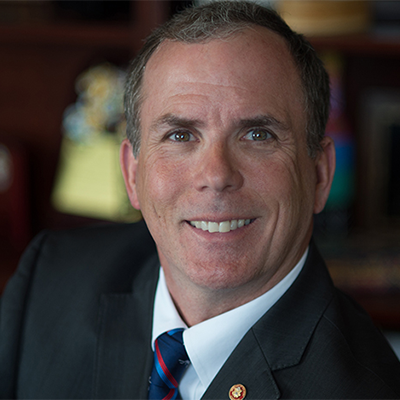 Mobility is essential for participating in life's activities from getting up in the morning and moving through the home to shopping, healthcare appointments, school or work, and engaging with friends and family. For many people with disabilities and older adults, mobility is difficult and requires the use of technology. Fortunately, technical innovations are emerging every year, and these have transformative capabilities to enable and improve, I believe, people's lives.
Creating a World of Unencumbered Mobility and Function for All
The team at the Human Engineering Research Laboratories (HERL) of the University of Pittsburgh and the U.S. Department of Veterans Affairs (VA) focuses on creating a world where all people with disabilities have unencumbered mobility and function so that they can fully participate in and contribute to society. HERL has been supported by and engaged with the Paralyzed Veterans of America, and other advocacy organizations for decades including people with disabilities and their integration into our team are core beliefs.
Leveraging Robotics, Machine Learning and More
The ability to live at home is important for people, and this desire may become more acute as one acquires a mobility impairment. The team at HERL has worked with AgileLife, based in Connecticut, to create a suite of robotic wheelchair-bed systems that allow people to move to and from their wheelchair and bed with minimal assistance and without the need to be lifted. While developing the NextHealth System, we brought a unit to the Heinz VA Medical Center where we demonstrated the invention to a spouse of a veteran living there due to Amyotrophic Lateral Sclerosis (aka Lou Gehrig's Disease). After trying the device, she asked her husband's physician to order one. A few weeks later, we were able to deliver a robotic system to their home and the couple was able to live at home together again.
For those who use wheelchairs it is important to change their seated position regularly to reduce the risk of developing injuries, some of which can be life threatening. HERL worked with Permobil in Tennessee to create the Virtual Seating Coach which uses machine learning and contextual awareness algorithms to learn a person's seating behaviors and to coach them to learn to use their powered seating functions to help manage their health.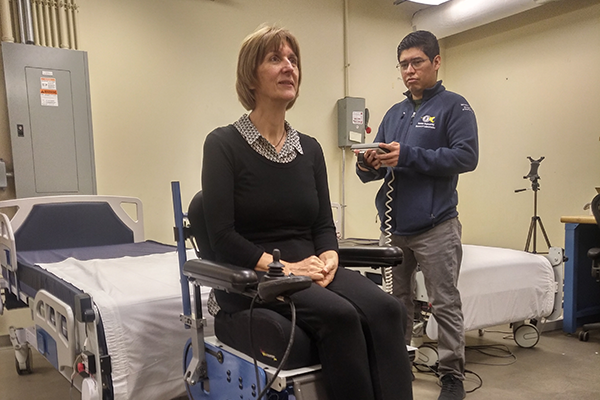 People who use manual wheelchairs are at risk for developing wrist, elbow and shoulder injuries, and HERL was there to conduct research and development. That led to several groundbreaking technologies. Among these was the first commercially successful and scientifically based ergonomic pushrims marketed by Washington-based TiLite as the NaturalFit and Surge that reduce injuries that plagued people for decades.
Going to a water park or playing in a splash pad on a summer day can be fun and refreshing, but for people who use electric-powered wheelchairs these activities can be out of reach. However, as Morgan's Inspiration Island — an "ultra-accessible" water park in San Antonio – was being developed the developers approached HERL to help ensure that the water park was fully accessible for all. HERL accepted the challenge and developed a wheelchair powered completely by compressed air that is water resistant and submersible. The PneuChair opened integrated fun and provided people young and old the opportunity to participate in summer fun with friends and family. An air powered mobility scooter was also created and successfully tested with staff and shoppers at local Giant Eagle grocery stores.
HERL: a Problem-Solver Bringing Next-Gen Devices, Systems to Market
Solving problems for and with people with disabilities is at the core of everything that the team at HERL does. Mobility is an important area of HERL's work; however, the team is also addressing accessible vehicles and transportation systems, robotics, and other opportunities. There are exciting new technologies from HERL on the horizon such as the Mobility Enhancement Robotic (MEBot) wheelchair, alternative power sources, origami inspired design, and accessible workstation robots.
Inspiring and educating the next generation of innovators and inventors is essential to HERL implemented through our outreach and intern programs targeting people with disabilities, veterans, and students who may not have opportunities to participate in research and development activities like those offer by HERL. HERL – from the Pittsburgh region – is solving problems for the world and bringing next-generation devices and systems to market. We're doing this through inclusion and integration of end-users, partnerships with business, and talent development and attraction.