Pittsburgh Commercial Real Estate and Sites
Pittsburgh is an iconic city. It's firmly anchored in its legacy as the "manufacturer of the steel that built the modern world," but there's so much more to Pittsburgh than the steel industry. This region is comprised of 10 distinctive southwestern Pennsylvania counties with the city of Pittsburgh at its heart. The business parks and industrial sites in Pittsburgh along with the remaining region's footprint are roughly the size of the state of New Jersey, and the region is 2.5 million people strong.  
Across the region, fast-growing, deep-tech, research-driven investments are on the rise. These investments span AI/robotics and advanced and additive manufacturing as well as energy, life sciences, logistics, tech, transportation, healthcare and more. Top companies and talent choose Pittsburgh as a place to build the future and shape the world.  Something big is happening here, and you will want to be a part of it.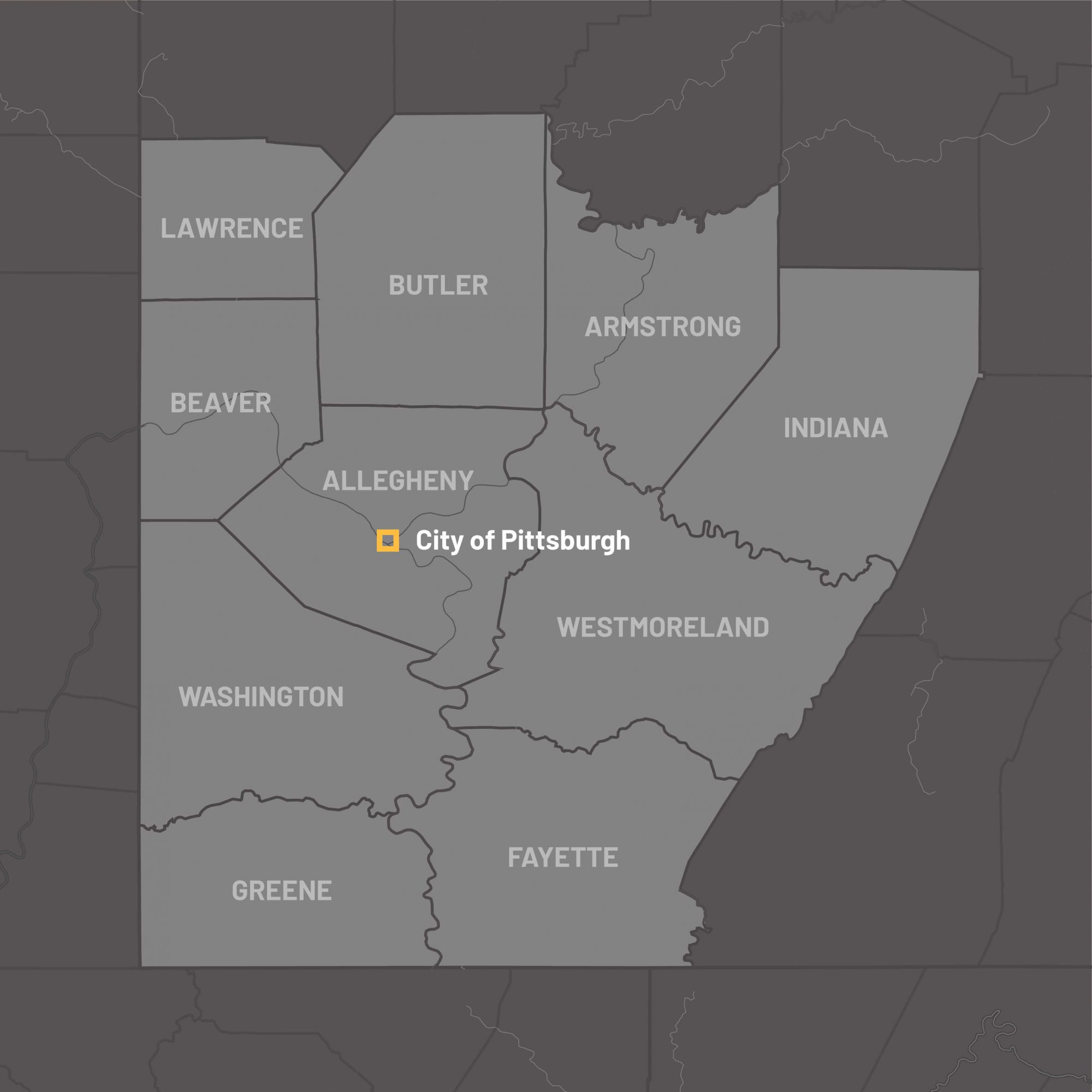 Explore Southwestern Pennsylvania Commercial Real Estate
The Pittsburgh region has robust real estate options, from industrial real estate to future-focused redevelopments of historic sites. Pittsburgh is where industrial site selection is made easy. Many companies have found the perfect place that meets their needs.
A prime example is Hazelwood Green – the city's last major brownfield now transformed as a riverfront hub of robotics and advanced manufacturing. Soon it will also be home to an impressive biomanufacturing facility rising under the banner of the University of Pittsburgh.
Across greater downtown alone, there are 1.8 million square feet of Pittsburgh office space from Lawrenceville to South Side. No matter what you're looking for, we have space for you to make your mark in the Pittsburgh region.
City of Pittsburgh
Allegheny County
Armstrong County
Beaver County
Butler County
Fayette County
Greene County
Indiana County
Lawrence County
Washington County
Westmoreland County
Which Pittsburgh Sites Are Ready for New Development?
The Pittsburgh region is home to hundreds of places to locate or expand your business – from iconic industrial sites and suburban business parks to future-focused brownfield developments where what's next in manufacturing, biotech and robotics is happening now. If you're looking to make a real estate investment in Pittsburgh, read on to learn more about different property types for sale and neighborhoods.
Below are short videos showcasing a sampling of strategic sites ready for new development. These industrial and commercial properties span the 10 counties of southwestern Pennsylvania that make up the Pittsburgh region.
Take a look and get in touch to talk about how we can work together to grow your business through office space or industrial real estate in Pennsylvania and Pittsburgh.
Riverfront Sites (Carrie Furnace and McKees Rocks Multimodal Park, Allegheny County)
With hundreds of sites and investment properties to choose from, we have occupancy space that meets your site selection criteria. Check out two of our riverfront sites – Carrie Furnace and McKees Rocks Multimodal Park. Both in Allegheny County, these brownfield redevelopments have rail access and are conveniently located close to Pittsburgh's central business district. Both are also near single-family homes, multi-family homes and many rental properties, in towns such as West Mifflin, Wilkinsburg, East Liberty, Pleasant Hills and Duquesne.
RIDC ARMSTRONG INNOVATION Park (Armstrong County)
Looking for pad ready sites to locate or expand your operations? Take a look at the RIDC Armstrong Innovation Park in Armstrong County, one of our strategic sites in the Pittsburgh region. The RIDC Armstrong Innovation Park is a mixed use development ideal for industrial, commercial, retail and more.
Aliquippa Industrial Park (Beaver County)
The Aliquippa Industrial Park, designated as a Pennsylvania "Select Site," is 56.6 total acres complete with all new road and utilities infrastructure. With nearby barge access and rail service, this site is primed for industrial use and supply chain operations.
Victory Road Business Park (Butler County)
Looking for a little bit of everything in your site selection process? Victory Road Business Park fits the bill. With available land plus buildings for rent and lease, the site can accommodate industrial buildings, manufacturing, warehouse and office use.
Innovation District (City of Pittsburgh)
The City of Pittsburgh's Innovation District is a startup and R&D hub, making it an ideal location for office, lab tech flex spacer, and residential property use. If you want your operations centrally located, accessible and near leading institutions and apartment complexes – we have space for you in Pittsburgh.
Located in the Oakland neighborhood between Downtown Pittsburgh and Carnegie Mellon University, there are many commercial real estate investing opportunities in the Innovation District. There are also real estate tax incentives for those who add the Innovation District to their investment portfolio.
dunbar township business park (fayette county)
Is your company looking for a quality, established business park location? The Dunbar Township Business Park in Fayette County has fully developed commercial and industrial acreage that can be subdivided, and it offers PA Turnpike, state highway and rail and rail-to-barge access.
EverGreene Technology Park (Greene County)
If you're looking to locate or expand your operations, the Pittsburgh region can meet your realty requirements. Learn more about one strategic site in southwestern Pennsylvania's large inventory of options – EverGreene Technology Park. This development is located in Greene County with several types of industrial and commercial real estate listings available.
Windy Ridge Business & Technology Park (Indiana County)
The Pittsburgh region has a robust commercial real estate market, as well as many industrial and office space options. Check out one of our strategic sites, Windy Ridge Business & Technology Park in Indiana County, a mixed-use development perfect for offices, warehousing, and light advanced manufacturing.
Neshannock Business Park (Lawrence County)
Is your company looking to locate or expand operations? The Pittsburgh region has hundreds of industrial and commercial real estate properties to choose from. Take a look at Neshannock Business Park.
This greenfield business park in Lawrence County has convenient access to western Pennsylvania and northeastern Ohio markets. If your company is looking for industrial space with plenty of square feet for an affordable purchase price and operating costs, this investment opportunity might be the perfect solution.
MON RIVER INDUSTRIAL PARK (WASHINGTON COUNTY)
If you're locating or expanding your business and need a pad-ready site, we have space for you here in Pittsburgh. One option to consider is the Mon River Industrial Park, a flat riverfront property perfect for industrial development with heavy utility infrastructure in place.
Commerce Crossing at Westmoreland (Westmoreland County)
Commerce Crossing at Westmoreland has two available pad-ready sites in its 206-acre industrial park, perfect for manufacturing, distribution or warehousing. Public utilities, road infrastructure and new investments in the area make this another prime real estate site in the region.
RIDC Westmoreland Innovation Center (Westmoreland County)
The RIDC Westmoreland Innovation Center is a 2.5M SF multi-tenant facility with 700K SF available. The site has 84 docks and 16 drive-in doors, heavy power and utility capacity and freight elevators. Be sure to check it out if you are looking to find a home for high-tech flex, manufacturing or office space.
Sign uP FOR aLERTS
Want to learn more about business development projects and real estate services in the Pittsburgh region and receive new listing alerts? Subscribe at the link below.