Tech for Good: How A World Changing Idea Feeds One Million People
Last year, a world-changing idea from Pittsburgh fed one million people across North America.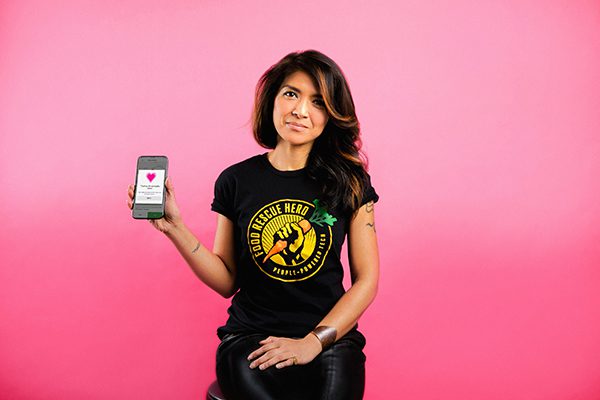 As the pandemic was changing life as we knew it in 2020, Fast Company named Food Rescue Hero as a winner of its prestigious World Changing Ideas award. In the very same month, our team was beginning to navigate what we now know as one of the most challenging years in memory. The audacious idea we had in 2015, that technology could enable people to show up for their communities, was about to experience its highest rate of downloads in its history–proving that in times of crisis, people look for ways to help.
And just like anyone can drive for UberEats, anyone can sign up to be a Food Rescue Hero. Just download the app, enter some basic information, and complete a quick background check. Once you're approved, you'll receive notifications when food is available to be rescued nearby and within the timeframes that work with your schedule. When you claim a food rescue, the app guides you to the pickup location, gives directions on where to go to receive the donation, and then guides you to the dropoff location. It's quick, easy, and makes an immediate impact: the average food rescue mission takes 27 minutes.
412 Food Rescue mobilizes volunteers who use their cars to bring food directly to homes and nonprofits where people who are experiencing poverty and food insecurity already are. Our drivers are able to deliver food that needs to be consumed immediately – like fresh produce, meat, and dairy items –bringing nutrient-dense food that can be hard to come by at traditional food pantries to people experiencing food insecurity.
Food Rescue Hero was piloted in Pittsburgh by 412 Food Rescue, the food rescue organization I co-founded in 2015. When I first came to Pittsburgh to raise my family, I had just left a career in advertising and start-up consulting in New York City. In my first local position at Innovation Works, and then later as a graduate student at Carnegie Mellon's Heinz College for Public Policy, I started to understand how ripe for innovation the city was, and in true Mr. Rogers colors, how kind its people are.
We created Food Rescue Hero based on the assumption that people are wired for good, and that if we asked, they would show up. I am thrilled to say that we were right. Our volunteers deliver at a 99% service level (higher than some commercial services).
Between the incredible tech resources, the innovation-centric philanthropy community, and the generous spirit that Pittsburghers embody, this city has welcomed our idea with open arms. As I write this, we have more than 16,000 volunteer Food Rescue Heroes in Pittsburgh alone. Together, they've completed 125,000 rescues – delivering 21 million pounds of food.
Now, our big idea is going global. With Pittsburgh as the model, we're able to test out new ideas with 412 Food Rescue and share winning innovations to scale food rescue around the world.
In 2020, accelerated by the pandemic, we piloted our Home Delivery capability, to reach members of our community who were the most vulnerable to COVID-19. In Pittsburgh and Prince William County, Virginia, our volunteers delivered 300,000 meals directly to the homes of people experiencing food insecurity. We iterated, and now all cities in our network can have this functionality built into the app. With the ability to deliver food directly to households in need, and the ability to set up recurring rescues, our technology is now at par (and with some advanced features designed specifically for food recovery) with commercial food delivery apps.
What we have created here in Pittsburgh is a beautiful, people-powered, technology-enabled network. It is revolutionary. It is working. It is what happens when we design social services with the people we seek to serve at its center. It is what happens when we unequivocally believe in everyone's desire to be there for others.
Next up? We're bringing this movement to 100 cities by the year 2030, in line with the UN's Sustainable Development Goals. When we meet this goal, we will have over a million Food Rescue Heroes showing up to change how food gets to people in their communities. By 2030, we will have rescued nearly 3 billion pounds of food. With the power of this many people, we will mitigate millions of pounds of carbon emissions, reversing climate change while feeding people. That is the power of using technology for good.