Pittsburgh Native Reflects on a New Era for Surgical Robotics in an Iconic City
As a child growing up in Pittsburgh in the 1970s and '80s, one of life's great mysteries was always the "Belt" signs around the city. Blue Belt, Green Belt – what did these signs mean? I would ask my parents, and they had no idea. These signs were a low-tech form of navigation which – when paired with a paper map – could allegedly help drivers sort out where they were among concentric circles of roads that encompassed Pittsburgh.
Back then, Pittsburgh was not the technology center that it is today. As the lyrics in the song, "Flashdance…What a Feeling!" from the Pittsburgh-set film Flashdance say, it was a "world made of steel, made of stone." Manufacturing was a mainstay of the economy. But when the steel industry was struck a severe blow in the '80s by lower-cost competition from abroad, the economic ripple effects could be felt throughout Pittsburgh, touching virtually every family, irrespective of livelihood. This began a great exodus of our young people – like me – who upon graduation from high school or college, set off in search of more promising and stable job markets elsewhere.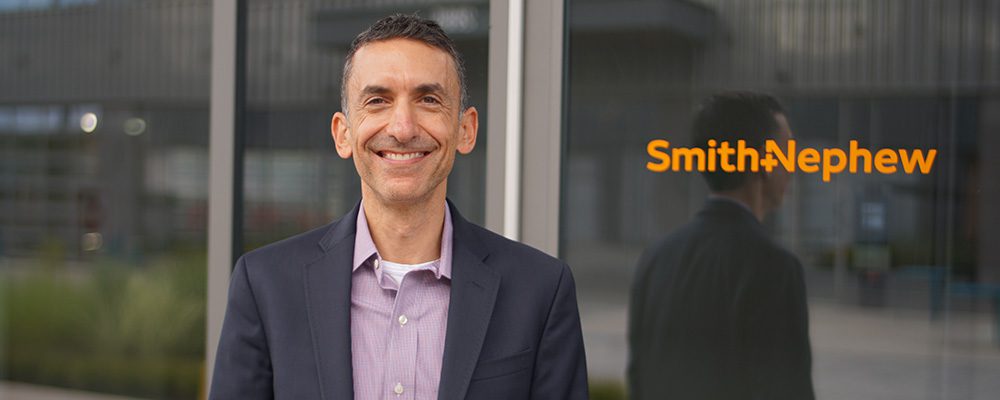 Toward the end of high school, as the Reagan-Mondale presidential election took shape, I developed a strong interest in politics and public service. That led me to pursue a summer internship on Capitol Hill during college, followed by the decision to attend law school in Washington. I then spent the next eight years in the U.S. House of Representatives, U.S. Senate, and the U.S. Department of Health and Human Services, where I became deeply involved in major health care legislation and regulations aimed at improving access to care.
Since 2003, I have carried my passion for healthcare policy into the private sector, where most of my work focuses on being an advocate for patient access to cutting-edge medical technologies.  For the past 12 years, I have developed, led and grown the public policy and government affairs function at Smith+Nephew, a global medical technology company of British heritage with nearly 40 percent of its workforce in the U.S.  While I have many fond memories of this time with Smith+Nephew, no moment has been prouder for me than when the company, in 2016, acquired Pittsburgh-based Blue Belt Technologies, named after the innermost circle in the city's road belt system.
Founded to further develop technology from Carnegie Mellon University's Robotics Institute, Blue Belt possessed one of the industry's deepest knowledge bases in clinical, robotics-assisted orthopedic surgery.  During the almost six years since acquisition, we more than tripled the headcount at this R&D hub from roughly 60 to more than 200 employees.  In fact, in October of 2021, we had a ribbon-cutting ceremony in the Strip District to officially open our new $20+ million R&D facility, just blocks away from Blue Belt's original home in more modest quarters.
Pittsburgh has created an attractive and thriving ecosystem in which companies like Smith+Nephew can grow, a merging of world-renowned robotics and life science clusters that mirrors the confluence of the city's rivers. This ecosystem also has generated an inflow of people: for the first time in more than 50 years, the latest Census found that Allegheny County – where the City of Pittsburgh is located – grew in population during the previous decade. Moreover, according to the Census Bureau's American Community Survey, the proportion of people aged 22-34 increased significantly across most of the city's neighborhoods. As Allegheny County Executive Rich Fitzgerald has noted, Pittsburgh is no longer exporting its youth.
With our new R&D facility, Smith+Nephew has invested in and become a part of Pittsburgh's growing, tech-driven economy. We are not only creating medical technology jobs, we are also delivering value to our healthcare system. Our CORI Surgical System provides highly sophisticated surgical navigation that belies the original Blue Belt name. This is technology that can transform orthopedic surgeries by combining surgeons' skills with robotics.
In the U.S., we are blessed with a deep array of healthcare resources. However, our system is a patchwork in need of efficiencies wherever we can find them to keep costs down. Robotics platforms like our CORI Surgical System can help drive cost-effective solutions in the surgical arena that can save money for health care providers and patients.
When my flight from Washington landed in Pittsburgh the day before our ribbon-cutting, I walked to the ground transportation pick-up area and ordered an Uber. The driver picked me up and began to use a GPS-reliant app on her phone to help navigate the journey to my hotel. No Blue Belt or Green Belt signs needed. Technology truly does transform.