With innovating thinking and curiosity, trucking leader PITT OHIO answers the call: "what more can we do?"
If there is one thing I've learned in my 40 years in the transportation industry, it is that those who adapt to change will survive and those pioneering innovations in every area of their business will succeed. My time spent at PITT OHIO has been some of the most rewarding years in my professional career and the projects I'm most passionate about are the latest innovations we're making with renewable energy.
Trucking wasn't always considered the most innovative industry. But when you couple innovative thinking and just plain curiosity, the possibilities are endless. At PITT OHIO, we are constantly asking ourselves "What more can we do?" That is exactly what happened after we saw that 1,094 ground-mounted solar panels at our terminal in New Jersey generated most of the facility's electric demands throughout the year. In fact, there are multiple months where the solar panel array is able to generate excess energy that is re-distributed back to the grid.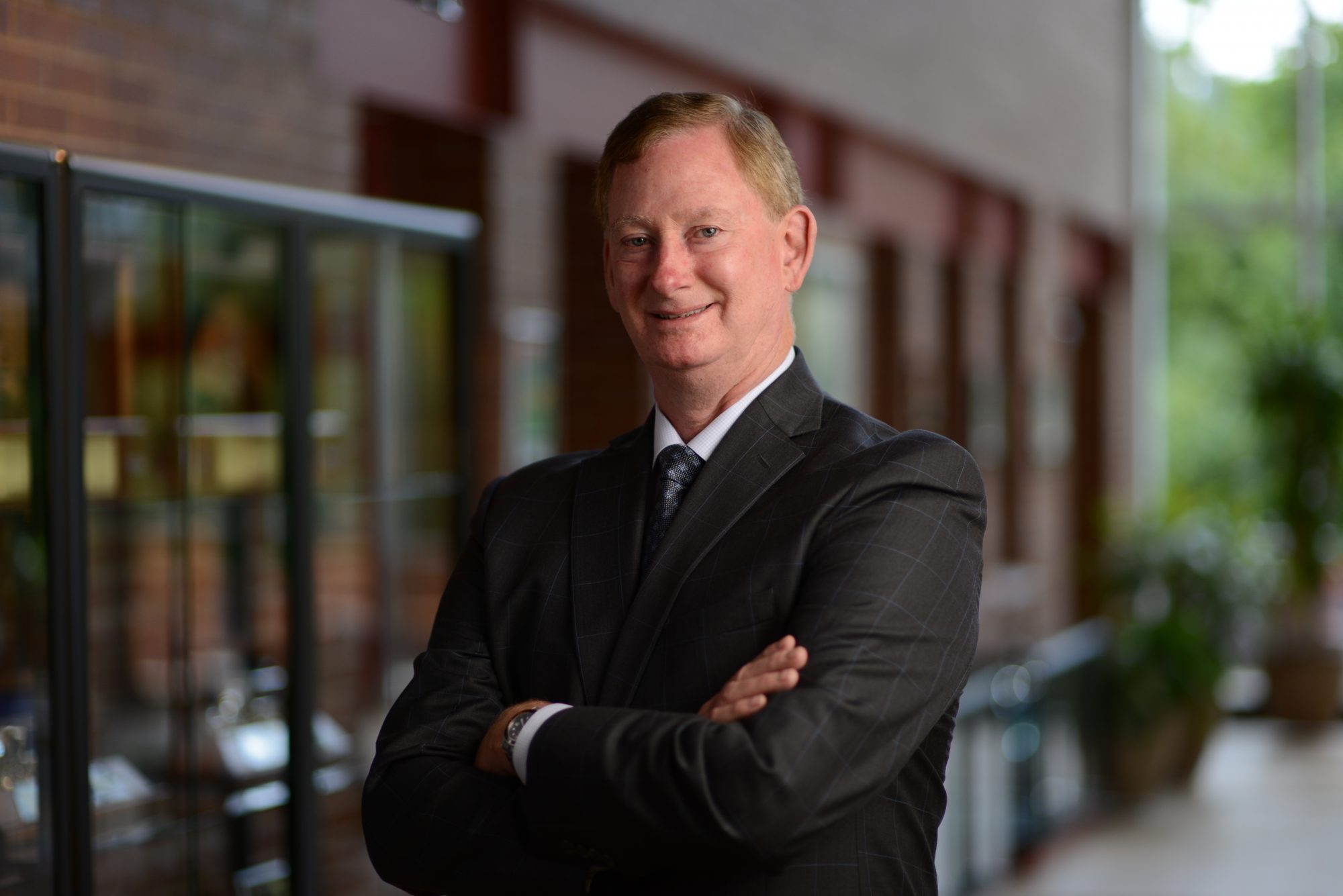 This was our first step down the path of sustainability in a significant way. Throughout the years, it was our practice to pursue sustainability projects that made good business sense, but solar power was completely new territory for us. I'll admit this was the start of when we began to look at things differently.
A colleague of mine and I were walking to lunch in the Strip District when we saw this contraption on the sidewalk with what appeared to be panels spinning and spinning every time the wind blew. Curiosity outweighed my hungry stomach and we found ourselves talking with Ron Gdovic, owner of Windstax, who makes the largest vertical wind turbines in the United States.
Ron explained the turbines and how WindStax was creating electricity for oil fields. We told him our story and explained we were installing solar panels on the roof of our new LEED (Leadership in Energy Efficiency and Design) Certified Pittsburgh terminal, which would be in Harmar Township, just 13 miles from the Strip District. Ron encouraged us to think about linking wind energy with solar to generate greater renewable energy capabilities.
When we approached PITT OHIO's owner, Chuck Hammel, with this new idea, he not only encouraged us to pursue it, he pointed us in the right direction by connecting us with cutting-edge academia and entrepreneurs. The Pittsburgh region itself provided us with all of the pieces of the puzzle to put together an innovative, untested, system that would generate wind and solar. It all happened with suppliers within 30 miles of Pittsburgh.
The project came to fruition as a result of the intellectual capital from the region's top energy companies and the University of Pittsburgh Swanson School of Engineering, headed by Dr. Gregory Reed. The partnerships with the Swanson School of Engineering and WindStax have been instrumental to the development of this innovative technology.
However, we did not reach success on our first attempt. In fact, it was probably many attempts before we saw success. I guess you could say we're just never satisfied and that question "what more can we do" keeps sneaking up on us. Chuck Hammel's willingness to try new things, learn from the successes as well as the failures, and refine as we go is the encouragement projects like these need. Sometimes failing is how you end up getting the best version.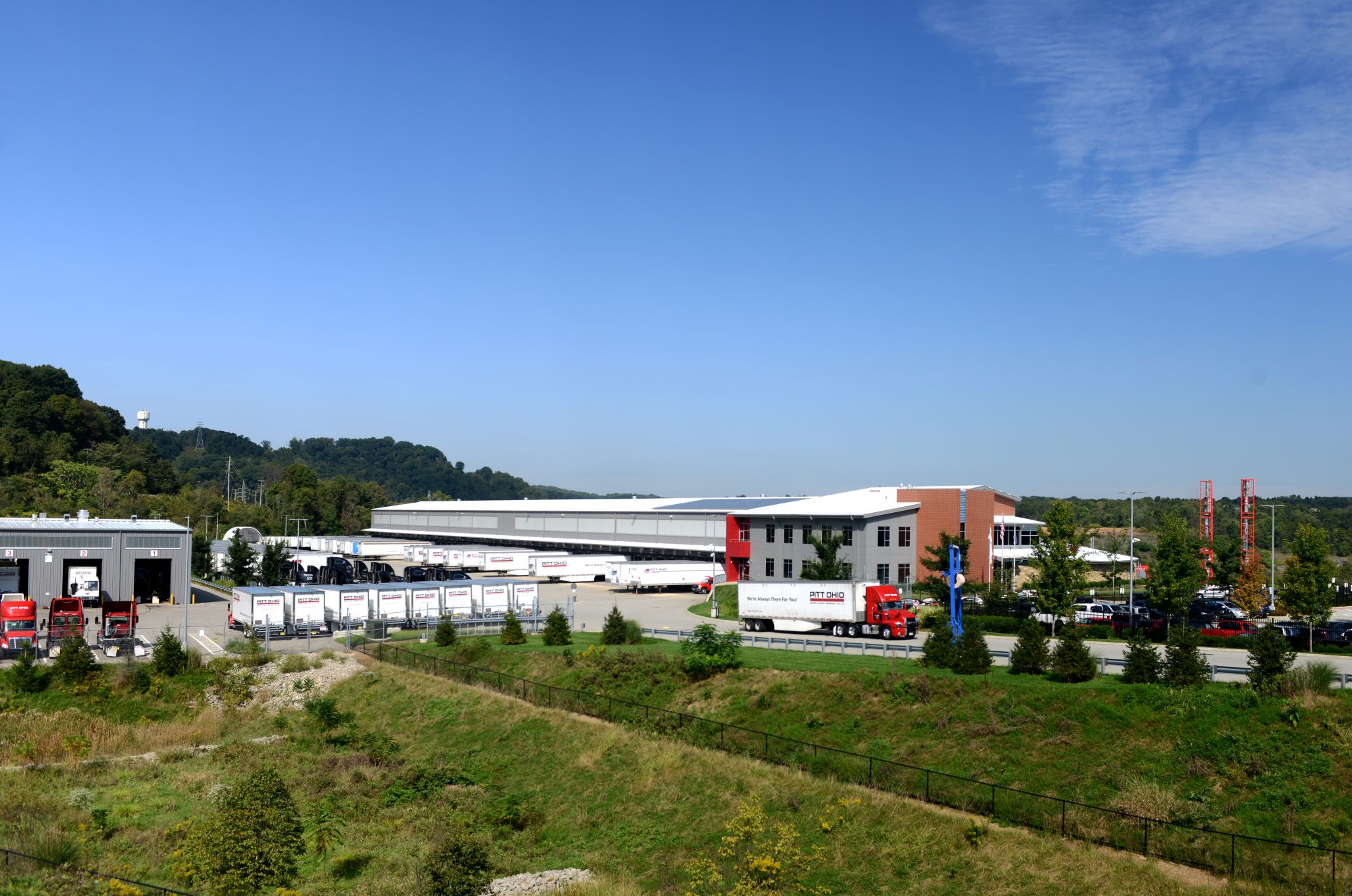 Unlike many other businesses, PITT OHIO uses most of our electricity in the evening and at night, which results in an uneven use of electricity. We had to figure out a way to generate the optimal amount of electricity we would need when the sun wasn't shining. There was no full-proof methodology known yet.
We decided that placing weather stations at our facilities was the best way to learn about each location. For 2-3 years, the weather stations gathered information around days and hours of sunshine and wind speeds and directions. With these research findings, we were able to develop the right combination of solar and wind needed to power each of our facilities.
The next advancement is one I never imagined and certainly didn't expect from a trucking company. With guidance from WindStax and the University of Pittsburgh, our microgrid combines solar and wind energy with battery storage to power interior and exterior lighting loads throughout the facility. The battery storage we pioneered satisfies the peaks and valleys in our required energy usage throughout the day and night and it accommodates for the uneven generation of electrical DC Power. Our goal is to be able to work in harmony with the energy companies where our excess energy is sold back to the grid and when we need more, we can purchase it from the grid.
Integrating the renewable energy supply with the DC powered components of LED lighting would be a cost-effective approach. Additionally, powering DC components without converting to AC is the efficient approach, eliminating the energy loss in a conversion from DC to AC. The vision was there and with the help of many experts, we were able to bring this microgrid technology to fruition.
Awarded several U.S. patents, the high voltage direct current distribution-to-the-fixture design uses renewable energy with maximum efficiency. Utility power is available seamlessly as a backup and excess renewable energy is sent to the grid. Wind and solar production combined with massive energy storage capacity allows the terminal facility to function autonomously, reasonably independent of the grid, essentially indefinitely. This type of energy flexibility and carbon offset is unprecedented in the trucking industry.
Construction for the terminal in Pittsburgh was already underway, so sustainability features were added in as we went. Flash forward five years, sustainability was at the forefront of our plans for a new terminal in the Cleveland, Ohio area. The lessons we learn at each location gets added to the blueprint for future projects. We also revisit our past projects to make improvements. We are always focused on answering the question, "What more can we do?"
It probably doesn't come as a surprise that for a trucking a company, the largest contributor to carbon emissions is our fleet of trucks. So, you might be wondering why our sustainability projects center around our buildings. Well, we're just getting started.
There is a lot of conversation around electric trucks, but what people do not ask is where are they getting the electricity? The answer is the electrical grid. Charging one truck in a night takes the same amount of power as 40 houses would use in a year. A fleet of 500 trucks would be 20,000 homes in a year. In these terms, it's an enormous amount of electricity that would be required to come off of that grid. Knowing what we knew then, while everyone was working on the development of electric vehicles, we were doing what we could with our facilities. Developing electricity for facilities was more reasonable for us to do because installing 20,000 acres of solar panels was not realistic. We looked at our vision and asked ourselves, "how do we develop something that not only works, but is viable and replicable to generate our own power?"
These facilities are state of the art in any industry. The building materials, the planning, and the strategy behind each construction has really been developed to be used anywhere, in any industry. It reflects the capabilities that reside in the Pittsburgh area through universities, innovative pioneers of renewable energy and the companies that have decided to stay here. This region is uniquely positioned to be a leader in the development of sustainability including electric vehicles, autonomous vehicles and robotics for the future.
The overall vision of our organization is to have our terminals generate enough energy to power themselves. Our multi-source strategy for operating our vehicles will be a mix of electric and diesel because we still need to be able to operate a large portion of our fleet should electricity go out or there is some type of grid malfunction. However, those strategies will all include a reduction of our carbon footprint in each of their individual ways. Newer equipment with cleaner emissions and better fuel economy, running fewer miles by optimizing how drivers pursue pickups and deliveries, educating and training our drivers, planners and dispatchers, and making sure we're putting the right size shipment on the right size truck are ways we reduce our carbon footprint with our fleet.
We quickly learned that when it comes to sustainability, the development of technology takes a long time and changes rapidly. We have to be forward thinking and, in fact, think even further out because by the time you arrive at "the future," the technology will have already changed. If you're complacent and believe everything is set in stone, the technology will pass you by. Our owner Chuck Hammel encourages us to embrace change and use the new knowledge to enhance what we're working on.
It is this level of support from an owner who is intrigued by innovation, encourages entrepreneurial thinking, and consistently asks "What more can we do?" that inspires me to bring more innovations to the trucking industry. It is this level of leadership that will keep PITT OHIO doing more well into the future.
Even though many of these resources, capabilities and expertise reside in other communities, Pittsburgh is one of the few places that can pull together all of these capabilities from private businesses, individuals and universities to make this happen. Those in Pittsburgh have a sense of pride around using this collective expertise to do something good for the community. A community with an innate sense of purpose to pull together for the greater good. It's with this spirit of collaboration that makes the Pittsburgh region so attractive to so many of the world's top businesses and will be for years to come.