AlphaLab Health accelerates the time it takes for novel ideas to reach patients
Bringing a novel healthcare product to market is a long, arduous process. You don't know what you don't know until you are face to face with it. Even the jargon is like a foreign language you have to master; ISO13485, Value Analysis Committee, Phase I, IND, on and on.

We have a wealth of ideas for new products coming out of our top-tier universities and are backed by substantial NIH and DOD funding in Pittsburgh. But the road from idea to commercialization is a long and winding one. Here's where AlphaLab Health, Pittsburgh's newest accelerator, comes in. AlphaLab Health is a unique partnership between the major integrated delivery and finance health system of Allegheny Health Network and a prominent seed-stage investor, Innovation Works. AlphaLab Health builds on Innovation Works' accelerator model – which propels software and hardware companies – and brings that potent combination of investment (up to $100,000), expertise, and a network of people and resources to life sciences companies as they grow to their next stage.
Most importantly, AlphaLab Health provides insight and connections directly relevant to early-stage healthcare companies, with custom content that goes well beyond what standard accelerators provide. This includes:
Strategic insight on the future of health systems and insurers, including presentations by the senior Highmark and AHN leadership
Access to clinical decision-makers and key opinion leaders within the AHN system
Education, programming, and guests related to defining and developing each product's appropriate billing and reimbursement model
Our first cohort of companies proves that this mixture works. In the five months we've been together virtually, the companies have closed sales accounts, kicked off series A funding rounds, hired key employees and even overhauled their business models based on feedback from relevant decision-makers.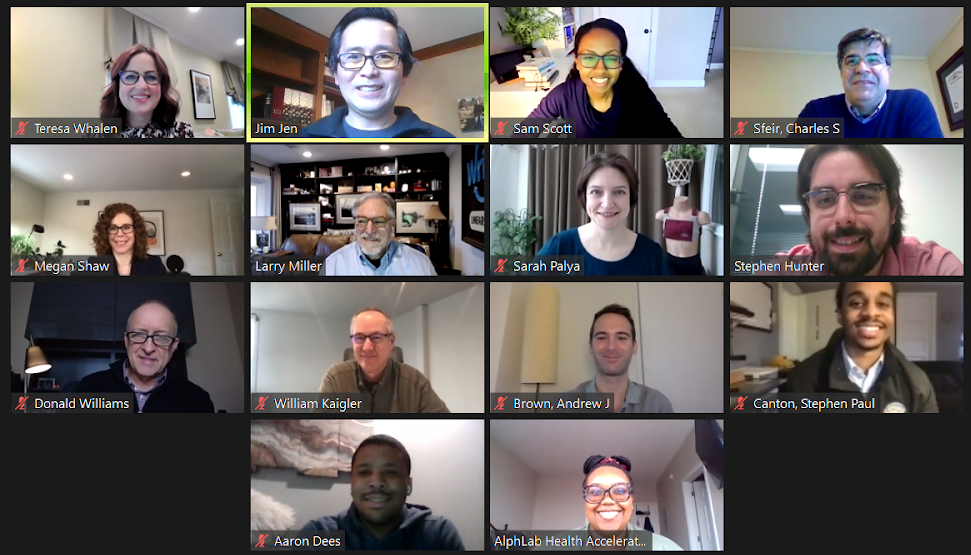 These sessions have been invaluable and have catapulted the companies forward as the mentors and session leaders have helped cut through the time it would have taken to research each topic while the expertise conveyed has been tailored to the companies so they could learn relevant content from operational and clinical experience. In my opinion, the expertise has been just as valuable as the early dollars.
I hope you'll join us on June 9th for the Showcase event that culminates the experience for the founders of CytoAgents, Emergence Dental, Gus Gear, JuneBrain, sovaSage, SpIntellx and Sterile Vision. You can find out more about the timing and the sign-up process here. Having seen the pitch deck for each company, I can't help but take pride in how much progress each has made in this relatively short period and while meeting virtually. You can get a lot done when you have the right partner and the right set of resources!
As we wrap up this first cohort of companies, we are also looking ahead to our second cohort which will launch this fall. Applications will open in mid-June (sign-up on our website to be notified when they open).
When the next cohort of companies is selected, they will be able to take advantage of the repurposed space at Suburban General. The wetlab and collaborative space are part of AHN's vision for a novel transformation of aging hospital infrastructure and will create a welcoming home for our next cohort.
Finally, as we seek to build on our successes we are also building our team. If you are interested in being part of the novel model we are creating to accelerate the time to market for healthcare products, please get in touch!