Lawrence County
Located on the border of the region between Pittsburgh and Erie, Lawrence County is a community of builders who are passionate about the region's history. Here, you'll find one of Pennsylvania's largest Amish communities with deep craftsman's roots, a business district in the city of New Castle and an iconic historic district dating back to the 1800s. As the most centrally-located county of the Pittsburgh region, Lawrence County is a trade epicenter with convenient access to major highways.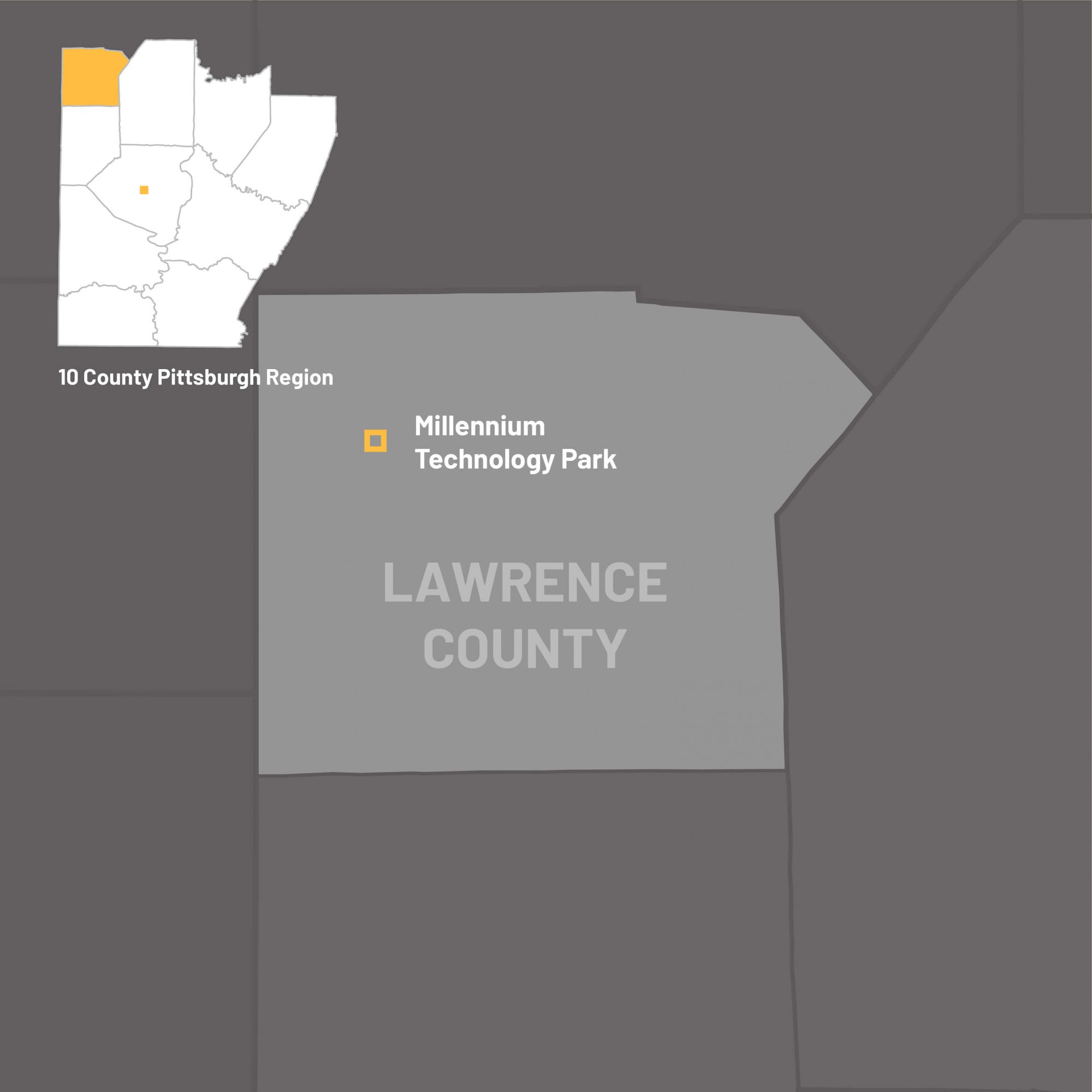 Key Real Estate Developments:

Millenium Technology Park Acreage for Sale
Opportunities:
Easily accessed from I-376 and Route 422, Millennium Park offers 200+ Greenfield acres.
Types of Spaces:
Greenfield parcels for Office, Industrial
More Information
Neshannock Business Park (Lawrence County)
Is your company looking to locate or expand operations? The Pittsburgh region has hundreds of sites to choose from. Take a look at Neshannock Business Park. This mixed use development in Lawrence County has convenient access to western Pennsylvania and northeastern Ohio markets.
Millennium Technology Park Acreage for Sale
The Millennium Technology Park has access from and visible to Interstate 376 with convenient connections to Interstates 76, 79 and 80, 35 miles to the Pittsburgh International Airport and just 25 miles to the future Shell Chemical Ethane Cracker Plant.
Demographics & Workforce
$47,188
Median Household Income (2018)
40,823
Total Labor Force (2018)
$41,188
Mean Earnings per Job
971
2017-2018 Public High School Graduates
71.5%
Post-Secondary Placement Rate
Sources: Bureau of Economic Analysis, PA Department of Education, PA Department of Labor & Industry, U.S. Census Bureau, U.S. Bureau of Labor Statistics
62,962
Population 25+
Sources: Bureau of Economic Analysis, PA Department of Education, PA Department of Labor & Industry, U.S. Census Bureau, U.S. Bureau of Labor Statistics
Economy
$3,163,348,357
GDP (2018)
1,989
Total Number of Employers (2018)
38,741
Total Employed Residents (2018)
Top Private Employers
Employer
Est. Employment

Healthcare

UPMC Health System

830

Manufacturing

Ellwood Group

700

Retail

Walmart StoresGiant Eagle Tamarkin

350

Insurance

Liberty Mutual

350

Distribution

Giant Eagle Tamarkin

320

Education

Westminster College

300

Social Services

Don Services

200

Social Services

Lawrence County Community Action Partnership

200

Telemarketing

Infocision

180

Healthcare

Ellwood City Hospital

130
Sources: Pennsylvania Department of Industry & Labor, Pennsylvania Department of Health, Pittsburgh Business Times, Pittsburgh Regional Alliance
Economic
Development
Contact: