Greene County
Small-town charm is married with spectacular natural beauty in the region's southwesternmost corner. The county sits between two economic drivers – Pittsburgh and Morgantown, W. Va. – making it part of a broader ecosystem where businesses can thrive. Distinguished agriculture, three institutions of higher learning, a long-standing energy hub and technology center – all contribute to Greene County's ability to showcase what Pittsburgh's prosperous countryside has to offer.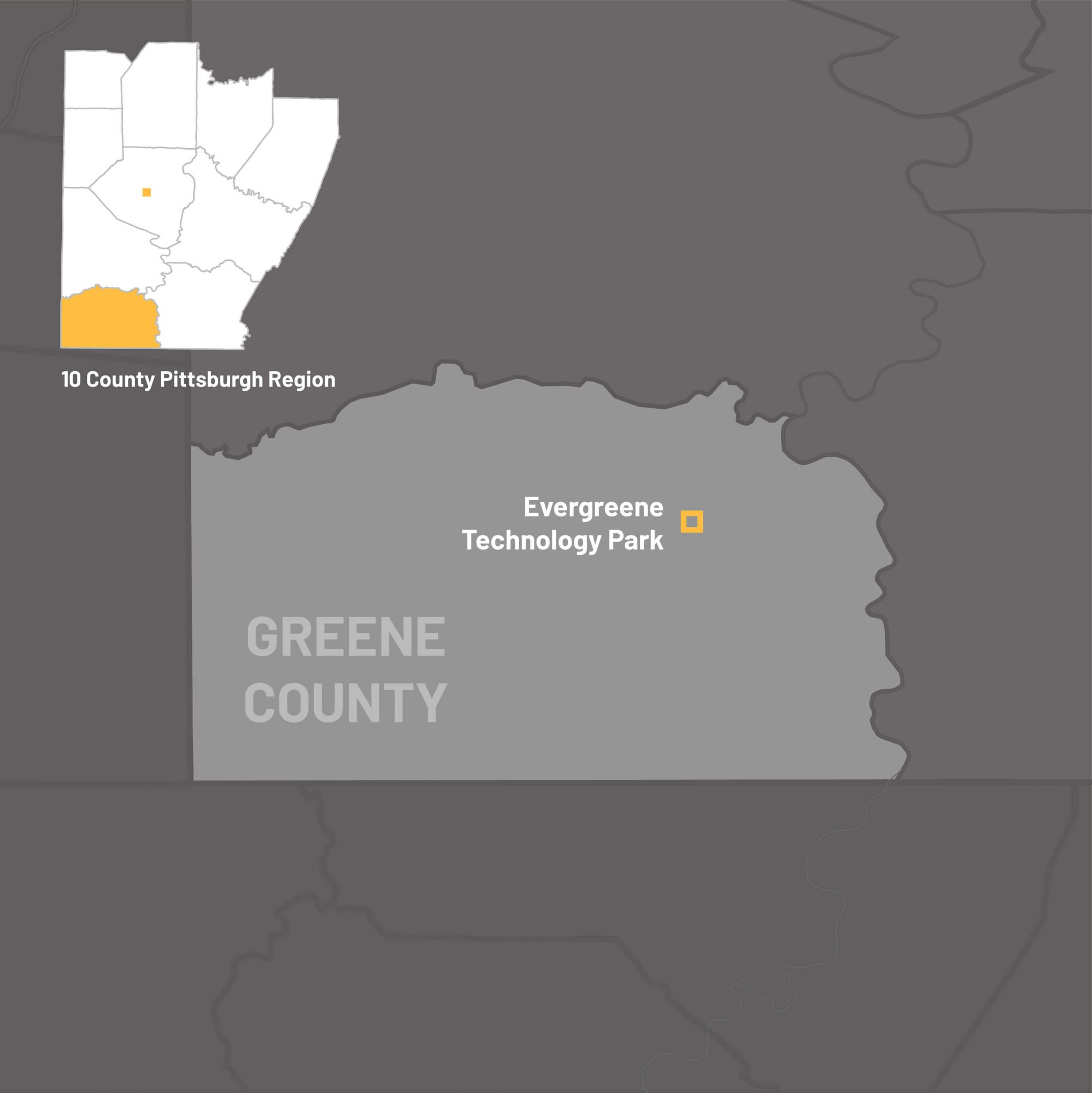 Key Real Estate Developments:

Evergreene Technology Park
Opportunities:
Evergreene Technology Park, Development Sites, and Former Energy sites.
Types of Spaces:
Greenfield and brownfield sites for Office, Manufacturing, Industrial uses
More Information
Demographics & Workforce
$50,972
Median Household Income (2018)
16,593
Total Labor Force (2018)
$55,361
Mean Earnings per Job
333
2017-2018 Public High School Graduates
60.1%
Post-Secondary Placement Rate
Sources: Bureau of Economic Analysis, PA Department of Education, PA Department of Labor & Industry, U.S. Census Bureau, U.S. Bureau of Labor Statistics
26,529
Population 25+
Sources: Bureau of Economic Analysis, PA Department of Education, PA Department of Labor & Industry, U.S. Census Bureau, U.S. Bureau of Labor Statistics
Economy
$2,354,011,801
GDP (2018)
807
Total Number of Employers (2018)
15,782
Total Employed Residents (2018)
*4.9%
Unemployment Rate
*pre-COVID-19 unemployment rate
Top Private Employers
Employer
Est. Employment

Coal Mining

CONSOL Energy

1,500

Coal Mining

Contura LLC

730

Coal Mining

GMS Mine Repair

560

Coal Mining

Monongalia County Coal Company

370

Education

Waynesburg University

320

Healthcare

Washington Health System

300

Natural Gas

CNX Gas LLC

280

Retail

Walmart

250

Oil & Gas

CalFrac Well Services

230

Oil & Gas

Cameron International

150
Sources: Pennsylvania Department of Environmental Protection, Pennsylvania Department of Industry & Labor, Pittsburgh Business Times, Pittsburgh Regional Alliance, IPEDS
Economic
Development
Contacts: