Fayette County
If you travel the country's National Road far enough, you'll arrive in Fayette County, Pennsylvania. The lush Laurel Mountains, Frank Lloyd Wright's landmark Fallingwater and more than 40 historic markers show off the region's natural and built beauty.
Located in southwestern Pennsylvania and named after Revolutionary War General Marquis de Lafayette, Fayette County is adjacent to Greene County, Westmoreland County and Washington County. With 798 square miles of land area, the county also shares a border with both West Virginia and Maryland.
Vast developable land makes it the perfect location to build a commercial or manufacturing business from the ground up. In addition, Fayette County's accessibility to major highways allows for smooth transit to eastern parts of Pennsylvania, such as the city of Philadelphia. Creators and builders alike will find their place in Fayette County, with accessible opportunities to pursue many passions.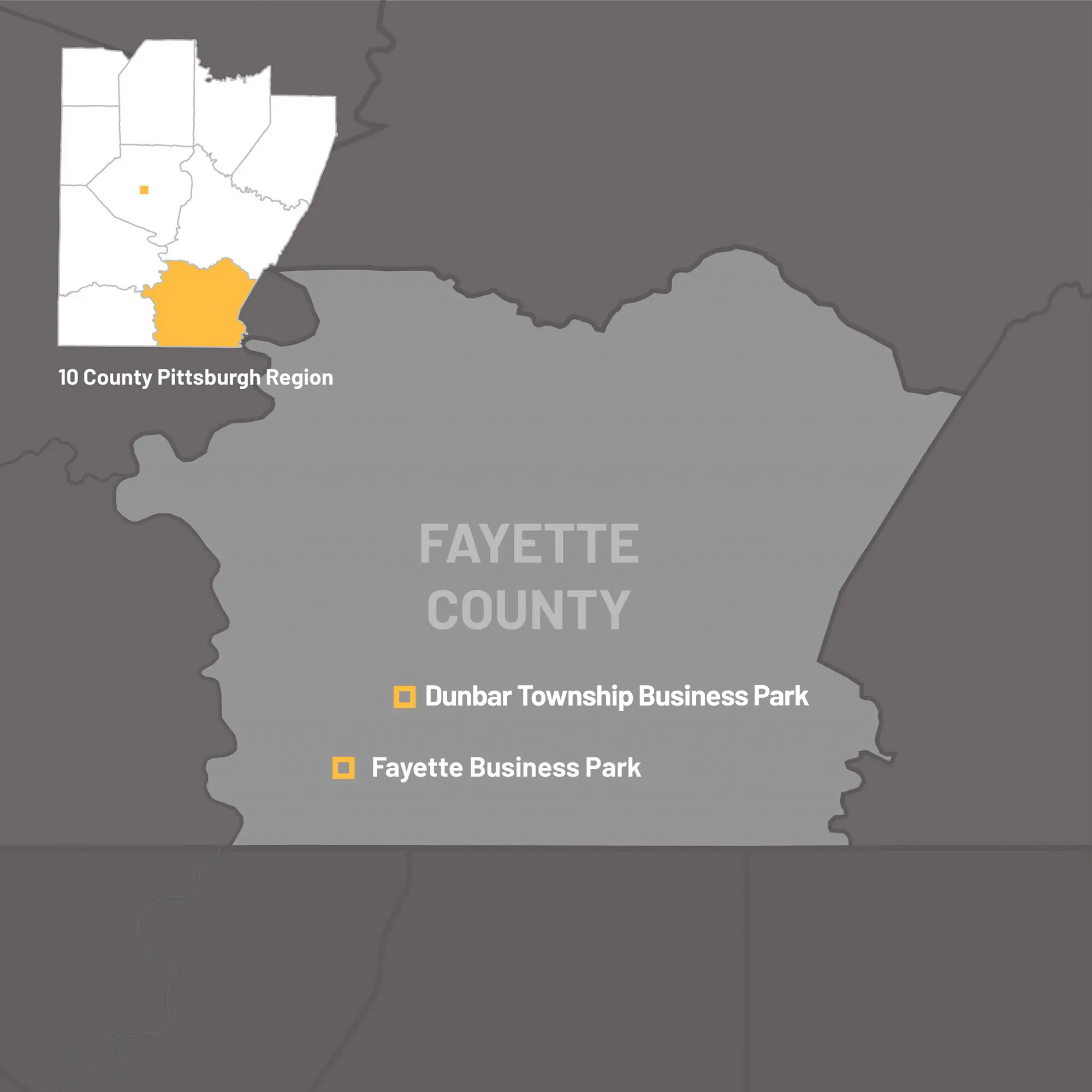 Key Real Estate Developments: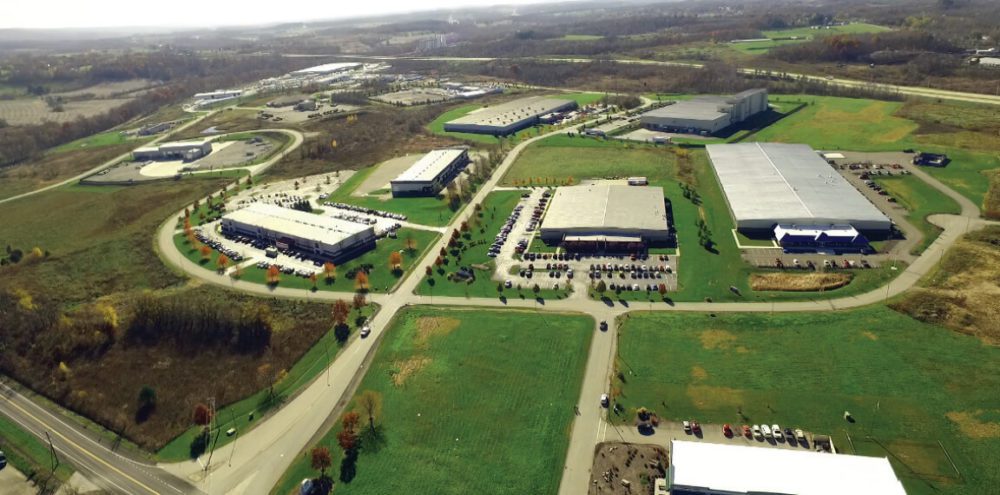 Fayette Business PArk
The Fayette Business Park has developable land, commercial and industrial sites, including a newly constructed 100,000 SF spec building.
Dunbar Township Business Park
The Dunbar Township Business Park has fully developed commercial and industrial acreage that can be subdivided, and it offers PA Turnpike, state highway and rail-to-barge access.
Demographics & Workforce
126,931
Population (2021)
$49,075
Median Household Income (2020)
55,770
Total Labor Force (2021)
$44,853
Mean Earnings per Job (2021)
1,111
2020-2021 Public High School Graduates
54.8%
Post-Secondary Placement Rate
Sources: Pennsylvania Department of Education, United States Census Bureau, United States Bureau of Labor Statistics
93,679
Population 25+ (2021)
Sources: Pennsylvania Department of Education, United States Census Bureau, United States Bureau of Labor Statistics
Economy
2,794
Total Number of Employers (2021)
52,197
Total Employed Residents (2021)
6.4%
Unemployment Rate (2021)
Top Private Employers
Employer
Est. Employment

Hospitality

Nemacolin Woodlands Inc

1,000

Healthcare

WVU Medicine

1,000

Retail

Wal-Mart Associates Inc

900

Call Center

TTEC

650

Manufacturing

Sensus Technologies

500

Social Services

Fayette Resources Incorporated

400

Healthcare

Bella Healthcare Center

400

Healthcare

Genesis Healthcare

350

Healthcare

Highlands Hospital

350

Natural
Resources

CalFrac Well Services

200
Sources: Allegheny Conference on Community Development, Pennsylvania Department of Health, Pennsylvania Department of Labor & Industry, Pittsburgh Business Times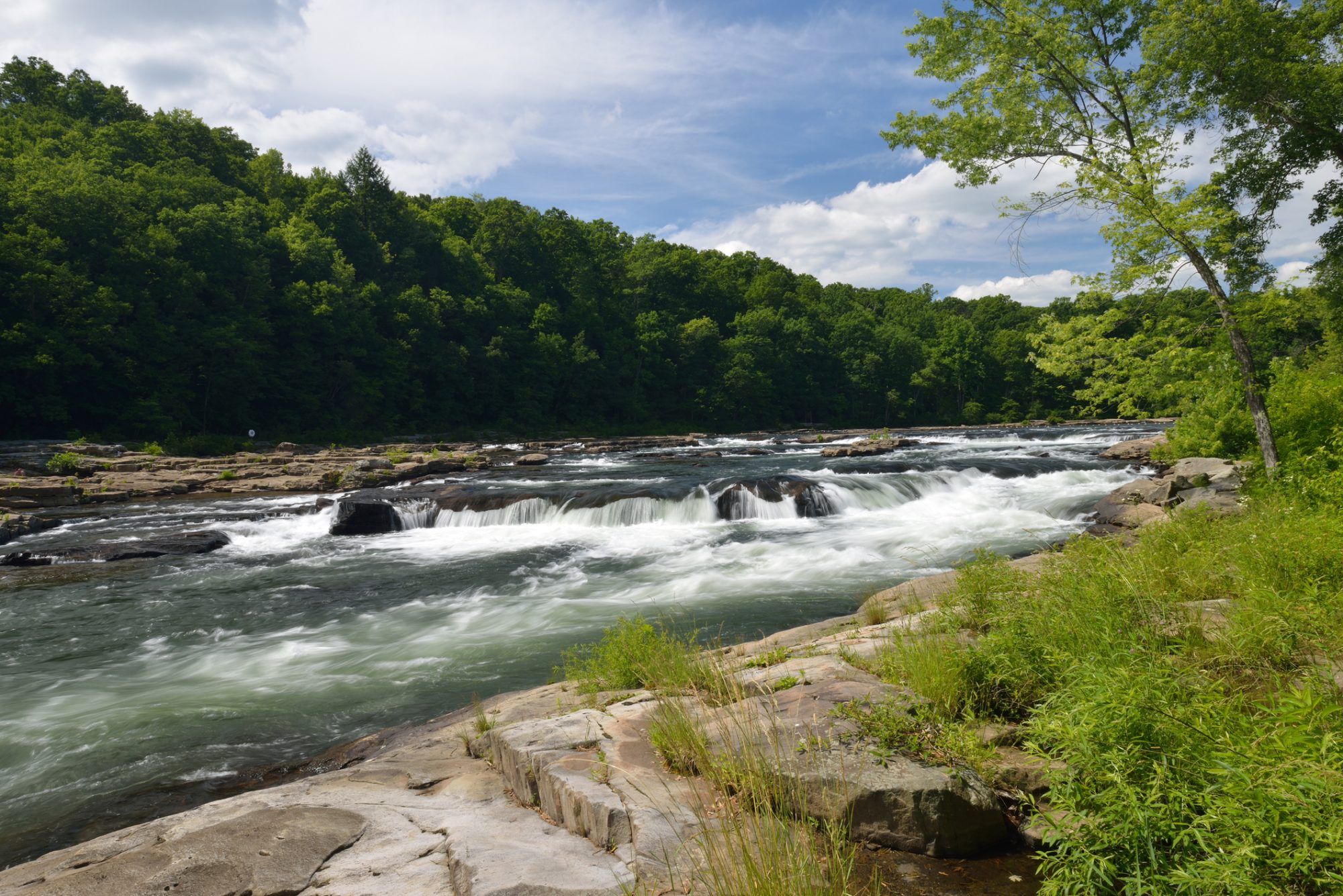 Things to Do in Fayette County, Pennsylvania
Fayette County is home to interesting and historical destinations areas as Fayette City, Smithfield, Brownsville, Chestnut Ridge, Wharton, German Township, the Connellsville area and more. The county has a variety of local attractions, outdoor activities and must-visit natural wonders.
Visit Iconic Frank Lloyd Wright Houses:
Fayette County is home to two of Frank Lloyd Wright's globally recognized architectural masterpieces, Fallingwater and Kentuck Knob. Tours are offered at both locations to learn more about the fascinating architecture and the architect himself.
Explore Ohiopyle State Park:
Whether you're into hiking, biking, rafting, camping or picnicking, Ohiopyle State Park has it all. The park's extensive trail system provides opportunities for both leisurely walks and challenging hikes, with trails that lead to some of Pennsylvania's must-see waterfalls like the Ohiopyle Falls, Cucumber Falls, Sugar Run Falls and more.
Stay at Nemacolin:
Situated on more than 2,000 acres, Nemacolin is a 5-star resort in the Pittsburgh region that offers luxurious accommodations as well as a wide range of activities year-round. Guests can experience standard offerings such as the pool, spa, fine dining and golf, but Nemacolin also offers the unexpected, like art galleries, horseback riding, paintball, fly fishing, ice skating and much more.
Visit Historic Sites:
Fayette County boasts a rich history, with several sites worth exploring. Uniontown, the county seat, is home to historic architecture, including the beautifully preserved Fayette County Courthouse.
The Great Allegheny Passage:
The Great Allegheny Passage (GAP) is a 150-mile-long rail-trail that passes through Fayette County, connecting Pittsburgh to Cumberland, Maryland. Cyclists can enjoy a leisurely ride along the Monongahela River, taking in breathtaking views of the river and its picturesque surroundings. Cyclists looking for a longer ride are in luck. In Cumberland, the GAP directly connects with another 185-mile trail, creating a 335-mile continuous, no-cars trail experience from Pittsburgh to Washington, D.C.
The Youghiogheny River:
Historically an essential part of the region's industrial development, today the Youghiogheny River is a vital and recreational destination. The Youghiogheny River Trail, a rail-trail conversion, runs along its banks, offering a scenic route for hikers and cyclists to explore the area's history and natural beauty.
Economic
Development
Contact: