City of Pittsburgh
Enterprise and innovation run through the City of Pittsburgh, the heart of the region. At the confluence of three rivers is the Central Business District (CBD), the region's long-standing center of commerce. Neighboring the CBD is "Robotics Row" where a growing concentration of leading tech and innovation ventures are pioneering what's next, with an emphasis on autonomy. At downtown's edge is the historic Hill District neighborhood, long a hub for Black arts and culture. It is poised for a renaissance and significant investment. Nearby – anchored by Carnegie Mellon and Pitt – is Pittsburgh's Innovation District, Pennsylvania's third-largest employment center. In its shadow, a former riverside brownfield, Hazelwood Green, is being transformed into an innovation center.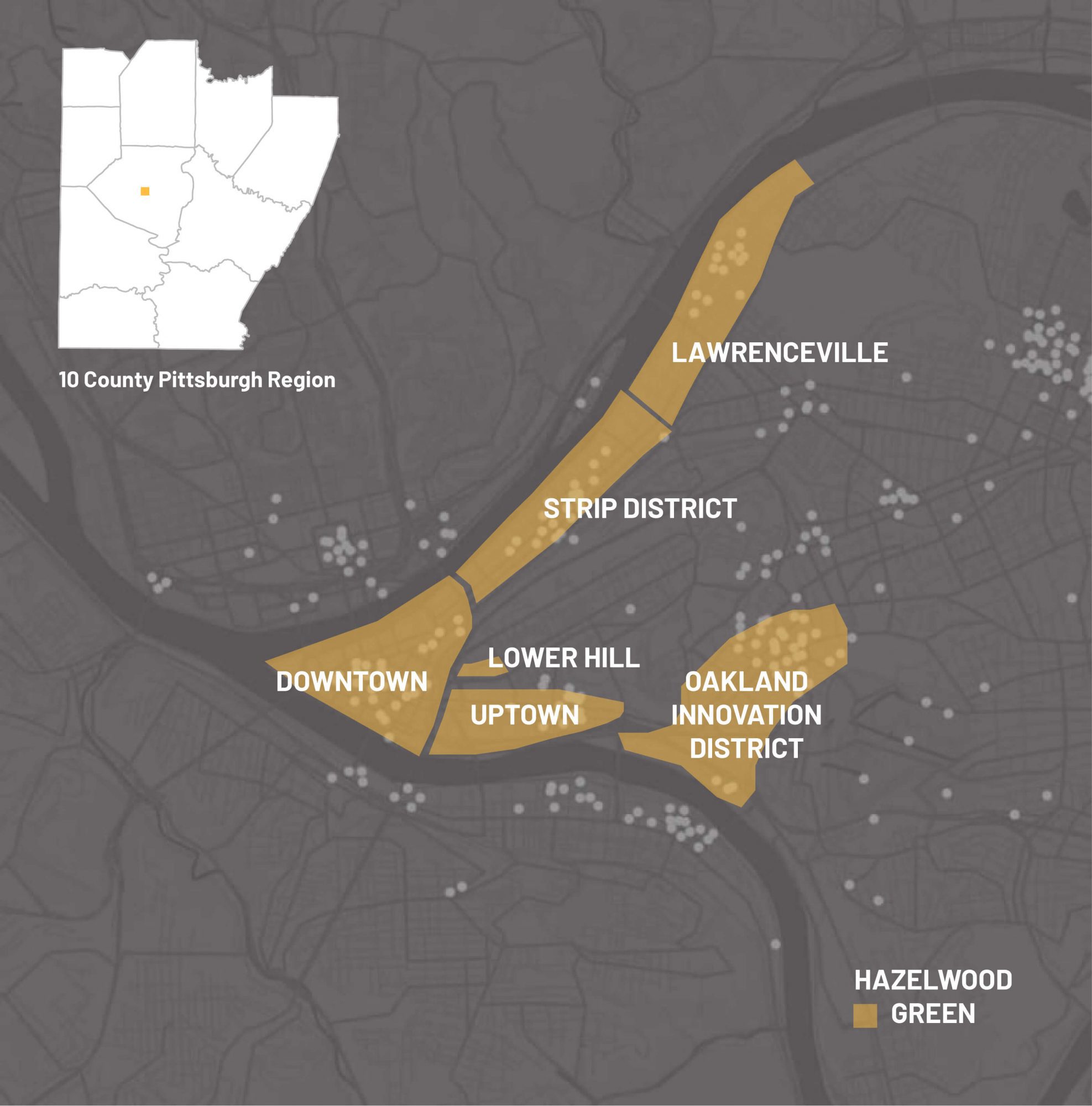 Key Real Estate Developments
Downtown
Multitude of options available in existing office buildings; Several projects in development for building conversions or renovations and new construction. Learn more
Strip District & Lawrenceville
The Strip District and Lawrenceville neighborhoods in Pittsburgh include some of the world's most prominent technology and innovation companies, including "Robotics Row".
Pittsburgh Innovation District
Pittsburgh's Innovation District is the 3rd largest employment center in Pennsylvania, anchored by Carnegie Mellon University and University of Pittsburgh. Learn more
Hazelwood Green
Hazelwood Green is transforming this riverfront former brownfield into a center for innovation. Opportunities include existing commercial and advanced manufacturing facilities, startup incubation, pad ready sites for development. Learn more
Uptown
Uptown lies along a critical transit corridor that connects the economic engines of Downtown and Oakland and sits alongside the historic Hill District. The first ever EcoInnovation District, the neighborhood stands poised to serve as a hub for the home to sustainable and clean technologies. Learn more
Lower Hill
The Lower Hill site will be a mixed use redevelopment to reconnect the city's downtown to the historic Hill District. Learn more
Demographics & Workforce
301,048
Population (2018)
$44,092
Median Household Income (2018)
156,476
Total Labor Force (2017)
$70,131
Mean Earnings per Job
1,710
2017-2018 Public High School Graduates
45.0%
Post-Secondary Placement Rate
Sources: Bureau of Economic Analysis, PA Department of Education, PA Department of Labor & Industry, U.S. Census Bureau, U.S. Bureau of Labor Statistics
205,498
Population 25+
Sources: Bureau of Economic Analysis, PA Department of Education, PA Department of Labor & Industry, U.S. Census Bureau, U.S. Bureau of Labor Statistics
Economy
$41,107,228,444
GDP (2018)
149,949
Total Employed Residents (2018)
*4.2%
Unemployment Rate
*pre-COVID-19 unemployment rate
Top Private Employers
Employer
Est. Employment

Healthcare

UPMC Health System

27,600

Healthcare

Highmark Health

13,800

Education

University of Pittsburgh

11,900

Financial

PNC Bank

9,500

Financial

BNY Mellon

7,000

Education

Carnegie Mellon University

6,100

Manufacturing

US Steel

4,100

Telecom

Verizon Communications

2,300

Education

Duquesne University

2,200

Entertainment

Rivers Casino

1,600
Sources: Pittsburgh Business Times, Pittsburgh Regional Alliance
Economic
Development
Contact: