City of Pittsburgh
Nestled in Allegheny County, Pennsylvania, the city of Pittsburgh stands as a vibrant and historic metropolis. In recent years, Pittsburgh has evolved into a hub of innovation, with a focus on life sciences, robotics, advanced manufacturing, distribution and logistics, energy, financial services and fintech and space.
Situated at the confluence of the Allegheny and Monongahela River, the city boasts stunning waterfront views. Often referred to as the "City of Bridges," Pittsburgh has over 446 bridges gracing its skyline. The second-largest city in Pennsylvania, Pittsburgh offers a captivating blend of history, innovation and community spirit. With its diverse neighborhoods, thriving arts scene and devotion to sports, Pittsburgh continues to captivate both residents and visitors alike.
City of Pittsburgh's Diverse Neighborhoods
Sources: Bureau of Economic Analysis, PA Department of Education, PA Department of Labor & Industry, U.S. Census Bureau, U.S. Bureau of Labor Statistics
Pittsburgh's character is evident throughout its 90 unique neighborhoods, each offering its own distinct character. Downtown Pittsburgh serves as the Central Business District (CBD), the region's long-standing center of commerce. Downtown serves as the heart of the city, featuring a bustling business district, iconic skyscrapers and a mix of historical and modern architecture.
Neighboring the CBD is "Robotics Row" where a growing concentration of leading tech and innovation ventures are pioneering what's next in autonomy.
At the downtown's edge is the Hill District neighborhood. A longtime hub for Black arts and culture, it is primed for significant investment. Nearby – anchored by Carnegie Mellon and Pitt – is Pittsburgh's Innovation District, Pennsylvania's third-largest business district. Just next door, a former riverside brownfield, Hazelwood Green, is being transformed into an innovation center.
Oakland, home to the renowned University of Pittsburgh and numerous medical institutions, creates a vibrant atmosphere filled with students, researchers and healthcare professionals. Lawrenceville, located just east of downtown, has experienced a renaissance in recent years, transforming into a trendy neighborhood with a burgeoning arts scene and a diverse array of restaurants, boutiques and galleries.
The city's government, including the Pittsburgh City Council and the office of the mayor, actively promotes public works projects and the revitalization of neighborhoods. Public initiatives have focused on improving real estate opportunities, preserving historic landmarks and enhancing public spaces, such as the North Side and the Strip District.
Pittsburgh also places a large focus on sustainable development. The Green Building Alliance leads the Pittsburgh 2030 District program, which is the largest 2030 District in the world. The initiative includes more than 550 buildings committed to reducing energy, water and transportation emissions by 2030.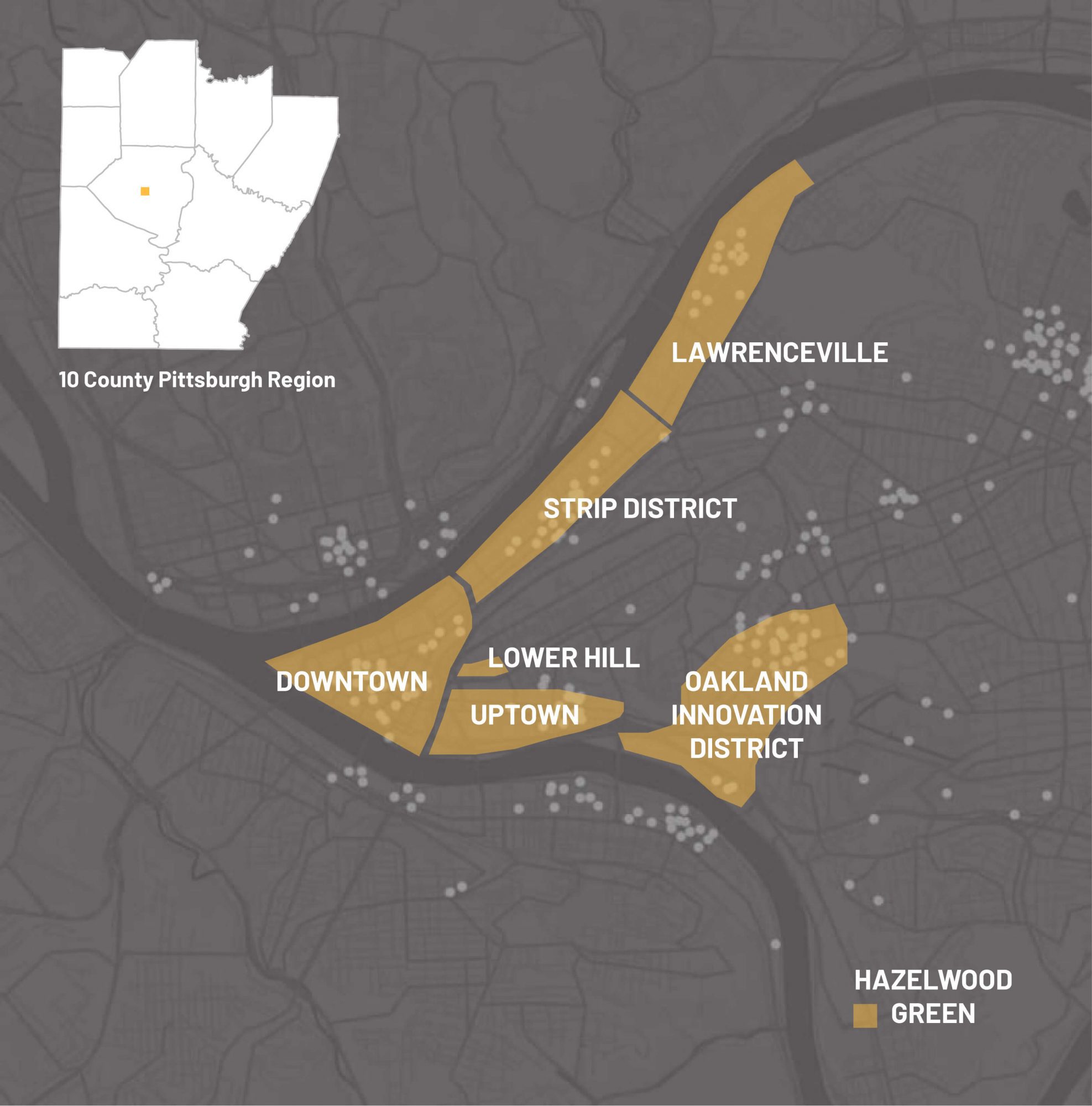 Key Real Estate Developments
Downtown
Downtown Pittsburgh offers a multitude of options available in existing office buildings. Several projects are in development for building conversions or renovations and new construction.
Strip District & Lawrenceville
Home to "Robotics Row," the Strip District and Lawrenceville neighborhoods in Pittsburgh include some of the world's most prominent technology and innovation companies.
Hazelwood Green
Hazelwood Green is a riverfront former brownfield transformed into a center for innovation. Opportunities include existing commercial and advanced manufacturing facilities, startup incubation and pad ready sites for development
Uptown
Uptown lies along a critical transit corridor that connects the economic engines of downtown and Oakland and sits alongside the historic Hill District.
Lower Hill
The Lower Hill site will be a mixed-use redevelopment to reconnect the city's downtown to the historic Hill District.
OAKLAND INNOVATION DISTRICT
The city of Pittsburgh's Innovation District is a hub of startup activity and R&D, making it an ideal location for office, lab and tech flex use. Centrally located, accessible and near leading institutions.
CITY OF PITTSBURGH's Demographics & Workforce
302,971
Population (2020)
$50,536
Median Household Income (2020)
152,756
Total Labor Force (2021)
$81,414
Mean Earnings per Job
1,484
2020-2021 Public High School Graduates
48.3%
Post-Secondary Placement Rate
Sources: Emsi, Pennsylvania Department of Education, United States Census Bureau, United States Bureau of Labor Statistics
207,544
Pittsburgh Population 25+
Sources: Bureau of Economic Analysis, PA Department of Education, PA Department of Labor & Industry, U.S. Census Bureau, U.S. Bureau of Labor Statistics
Economy
$38,678,188,459
GRP (2021)
143,312
Total Employed Residents (2021)
Top Private Employers
Employer
Est. Employment

Healthcare

UPMC Health System

26,600

Education

University of Pittsburgh

14,100

Healthcare

Highmark Health

13,890

Financial

PNC Financial Services

9,910

Financial

BNY Mellon

7,000

Education

Carnegie Mellon University

5,700

Healthcare

United Healthcare

2,700

Education

Duquesne University

2,100

Utility

Duquesne Light Holdings

1,550

Entertainment

Rivers Casino

1,370
Sources: Pittsburgh Business Times, Pittsburgh Regional Alliance
Pittsburgh at play
Sources: Bureau of Economic Analysis, PA Department of Education, PA Department of Labor & Industry, U.S. Census Bureau, U.S. Bureau of Labor Statistics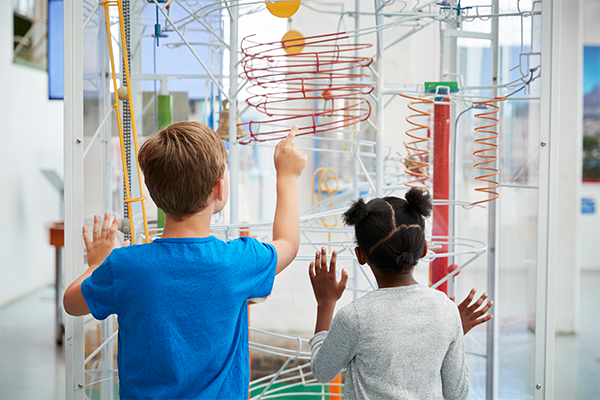 The city of Pittsburgh is home to many world-class museums, catering to a wide range of interests and age levels. Some of the can't-miss museums include The Andy Warhol Museum, The Children's Museum of Pittsburgh, Moonshot Museum, Roberto Clemente Museum and the Carnegie Science Center.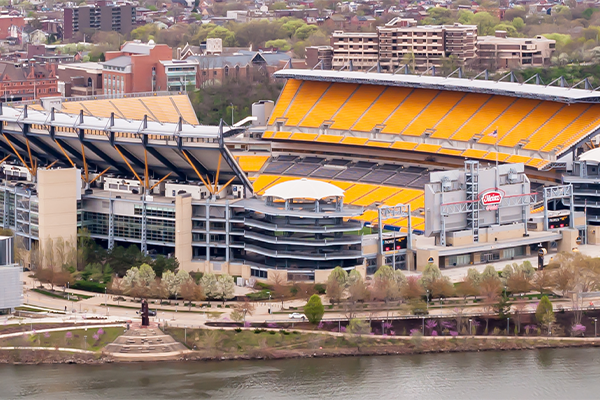 Sports play a significant role in the city's culture, with passionate fans rallying behind the beloved Pittsburgh sports teams: the Pittsburgh Steelers, Pittsburgh Penguins, Pittsburgh Pirates and the Pittsburgh Riverhounds, the city's pro soccer team. However, the passionate sports culture is not limited to just the pros. Hundreds of people participate in recreational sports leagues all year round.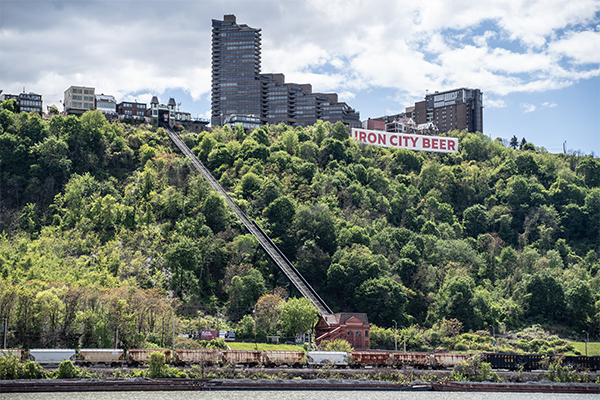 Accessible by the Duquesne Incline, Mount Washington offers breathtaking panoramic views of the city's skyline and its three rivers. The South Side and the South Hills regions are known for their vibrant nightlife, bustling shopping districts and a lively mix of residential and commercial areas. Shadyside, an upscale neighborhood with tree-lined streets, provides a charming blend of boutique shopping and dining.
The city's resilience and adaptability have allowed it to flourish in new capacities, particularly in the fields of robotics, manufacturing and healthcare. Pittsburgh has become a global leader in these industries, attracting top talent and driving economic growth.
Economic
Development
Contact: