Butler County
Butler County is a rich repository of year-round outdoor recreation assets, such as the nearly 17,000-acre Moraine State Park. Spread out across the county's nearly 800-square-mile footprint, small towns – many flavored by the distinctive cultures of European immigrant settlers – are visually charming. For businesses looking for a place to establish operations, Butler County offers a mix of office and distribution developments. Rapid residential development is underway on the county's southern border in Cranberry Township, which is only a 20-minute drive from downtown Pittsburgh.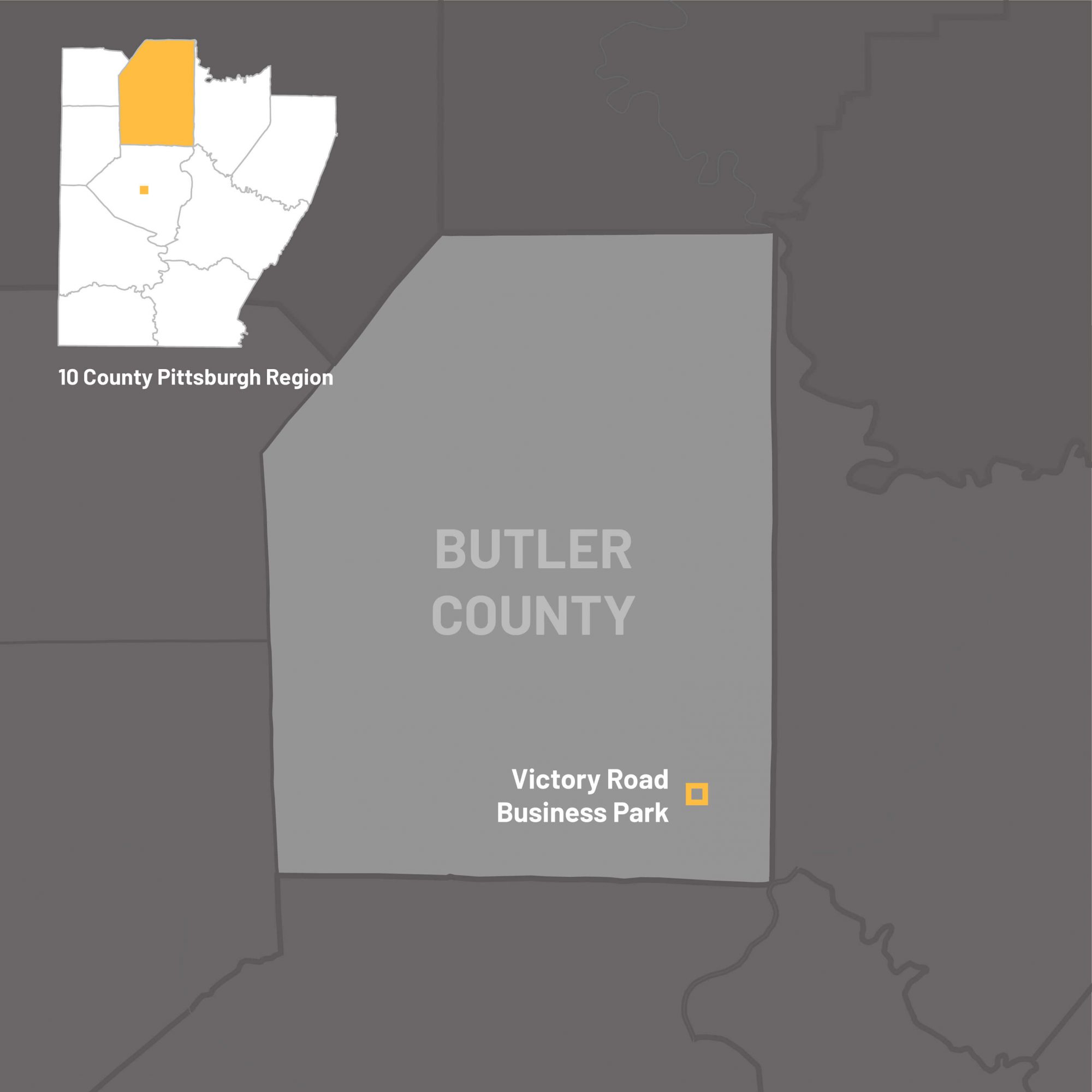 Key Real Estate Developments:

Victory Road Business Park
Opportunities:
Victory Road Business Park has available parcels for new development.
Types of Spaces:
Office, Manufacturing, Industrial
Victory Road Business Park (Butler County)
Looking for a little bit of everything in a potential site? Victory Road Business Park fits the bill. With available land plus buildings for rent and lease, the site can accommodate manufacturing, warehouse and office use.
Demographics & Workforce
187,888
Population (2018)
$66,037
Median Household Income (2018)
98,563
Total Labor Force (2018)
$51,343
Mean Earnings per Job
1,962
2017-2018 Public High School Graduates
78.4%
Post-Secondary Placement Rate
Sources: Bureau of Economic Analysis, PA Department of Education, PA Department of Labor & Industry, U.S. Census Bureau, U.S. Bureau of Labor Statistics
130,903
Population 25+
Sources: Bureau of Economic Analysis, PA Department of Education, PA Department of Labor & Industry, U.S. Census Bureau, U.S. Bureau of Labor Statistics
Economy
$11,087,702,402
GDP (2018)
5,045
Total Number of Employers (2018)
94,719
Total Employed Residents (2018)
*3.9%
Unemployment Rate
*pre-COVID-19 unemployment rate
Top Private Employers
Employer
Est. Employment

Healthcare

Butler Health System

2,400

Manufacturing

Westinghouse Electric Company, LLC

2,400

Healthcare

Concordia Lutheran Ministries

1,500

Manufacturing

AK Steel

1,400

Manufacturing

MSA Safety

1,200

Education

Slippery Rock University

970

Business Services

Next Tier Concepts

920

Retail

Wal Mart Associates

700

Manufacturing

Oberg Industries

680

Manufacturing

Penn United Technologies

580
Sources: Butler County Community Development Corporation, Pennsylvania Department of Industry & Labor, Pittsburgh Business Times, Pittsburgh Regional Alliance
Economic
Development
Contact: