Learn About Beaver County, PA
Named after the Beaver River, a tributary of the nearly 1000-mile-long Ohio River, Beaver County, PA was –and is – historically important, most recently as the site of one of the largest manufacturing projects in the United States: Royal Dutch Shell's petrochemical complex, the first such facility to be built outside of the Gulf Coast.
Twenty-four miles north of Pittsburgh, Beaver County features water- and rail-adjacent office parks. It's also home to a major Norfolk Southern railyard. Extensive pad-ready and development sites make the county ideal for advanced manufacturing.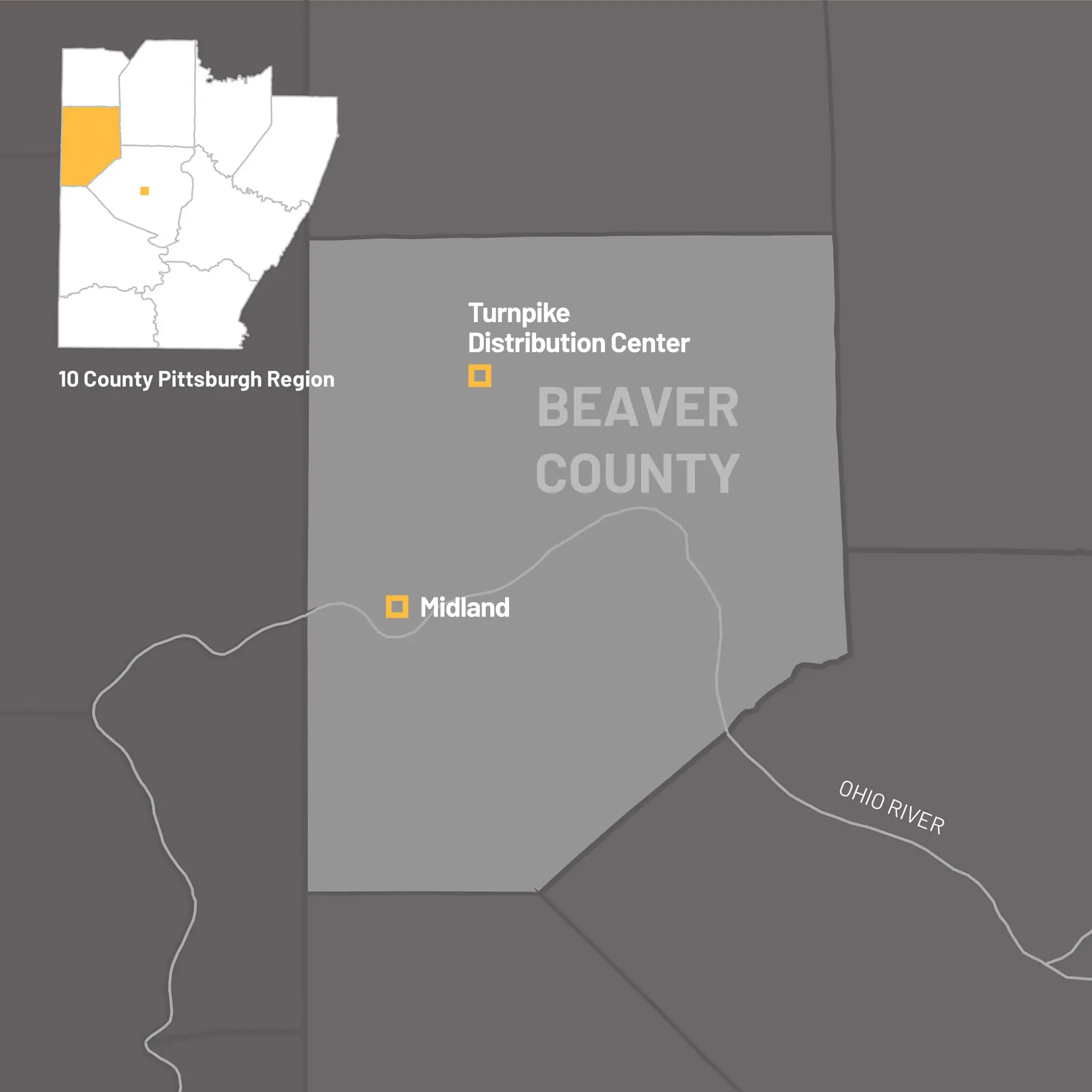 Key Real Estate DevelopmentS:

Turnpike Distribution Center
For companies with distribution, warehousing or logistics operations, the Turnpike Distribution Center is an ideal location. This 100-acre site has docking and loading features that align with what large distributors need to be efficient. Its location at the Pennsylvania Turnpike and I-376 provides easy access to nearby markets like Ohio, West Virginia and New York.
Midland
The Midland site in Beaver County, with approximately 150 acres available in 85-acre and 70-acre parcels, is ideal for heavy manufacturing and data centers due to its abundant power and rail access.
BEAVER COUNTY's Demographics & Workforce
166,624
Population (2021)
$59,014
Median Household Income (2020)
82,651
Total Labor Force (2021)
$60,322
Mean Earnings per Job (2021)
2,737
2020-2021 Public High School Graduates
47.2%
Post-Secondary Placement Rate
Sources: Pennsylvania Department of Education, United States Census Bureau, United States Bureau of Labor Development Statistics
122,540
Population 25+ (2021)
Sources: Bureau of Economic Analysis, PA Department of Education, PA Department of Labor & Industry, U.S. Census Bureau, U.S. Bureau of Labor Statistics
Economy
3,662
Total Number of Employers (2021)
78,079
Total Employed Residents (2021)
5.5%
Unemployment Rate (2021)
Top Private Employers
Employer
Est. Employment

Healthcare

Heritage Valley Medical Group Inc.

1,100

Utility

FirstEnergy

1,000

Social Services

Passavant Memorial Homes

700

Retail

Wal-Mart Associates Inc.

700

Healthcare

Friendship Ridge

600

Retail

Giant Eagle Inc

600

Manufacturing

Tenaris Koppel Tubulars

600

Business
Services

Mailing Services of Pittsburgh

600

Manufacturing

Veka Inc

600

Manufacturing

Shell

600
Sources: Allegheny Conference on Community Development, Beaver County Economic Development Corporation, Pittsburgh Business Times
Life & Education in Beaver County, PA
Beaver County, Pennsylvania's influence also extends to its neighboring regions. Sharing borders with Lawrence County, Washington County, Butler County and Allegheny County, as well as Ohio and West Virginia, the county is intricately linked to these areas, showcasing how geography shapes culture and society. The county's school districts, including Big Beaver Falls, Blackhawk, Hopewell and New Brighton, are integral components of the local community, nurturing the next generation of leaders and thinkers. Geneva College, a renowned educational institution, is nestled within Beaver County, contributing to its reputation as an intellectual and cultural hub.
For those considering a move, Beaver County offers an enticing opportunity in charming communities like Ambridge, Monaca and Beaver Falls. Beaver County's central location offers a close proximity to its neighboring city Pittsburgh, and is within a day's drive to Philadelphia and Rochester, New York. The Beaver River meandering through the county adds to its allure, providing opportunities for recreation and relaxation.
Economic
Development
Contact: