Armstrong County
Centrally located among western Pennsylvania's gently rolling hills and with the scenic Allegheny River running through it from north to south, Armstrong County is 40 miles north of Pittsburgh. In the heart of the eastern Marcellus Shale field, the county is experiencing a boom in natural gas production while being future-focused on emerging opportunities like those in electro-optics – developing products for the Department of Defense and U.S. industry. Rounding out its profile, Armstrong County is recognized as an office and data center hub with ample existing office space and pad-ready sites for new construction.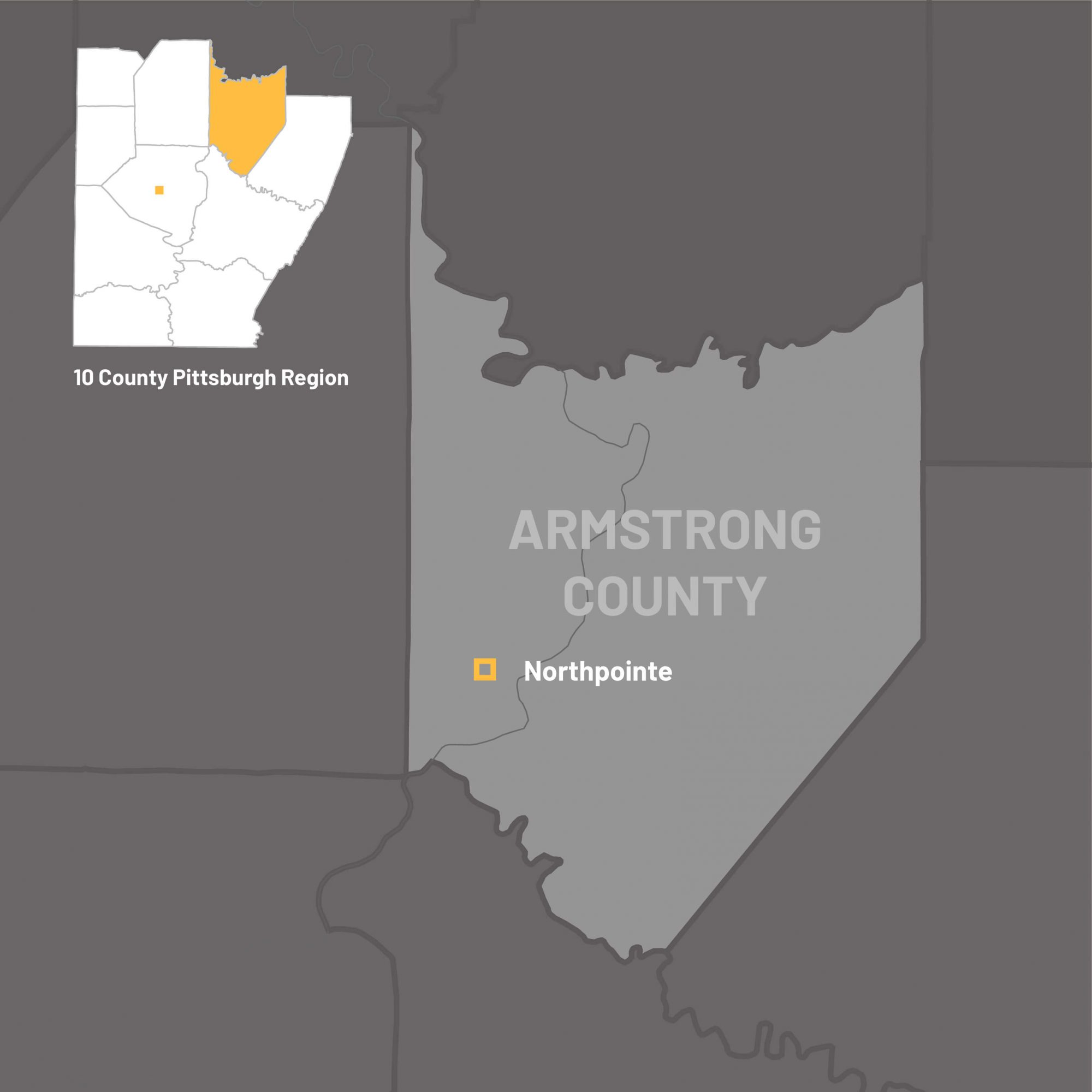 Key Real Estate Developments:

Northpointe
Opportunities:
Northpointe offers more than 12,800 sq office of existing available office space and 113 acres of pad ready sites.
Types of Spaces:
Office, Manufacturing, Industrial
More Information
Northpointe Industrial Park (Armstrong County)
Looking for pad ready sites to locate or expand your operations? Take a look at Northpointe Industrial Park in Armstrong County, one of our strategic sites in the Pittsburgh region. Northpointe is a mixed use development ideal for industrial, commercial, retail and more.
Armstrong County, PA Economic Development
Armstrong County's Industrial Development Council is on the forefront of revitalization and progress. Learn more about the streamlined building approval process and tax incentive programs at Keystone Opportunity Zones within Armstrong County.
Demographics & Workforce
$47,527
Median Household Income (2018)
32,148
Total Labor Force (2018)
$40,838
Mean Earnings per Job
740
2017-2018 Public High School Graduates
45.4%
Post-Secondary Placement Rate
Sources: Bureau of Economic Analysis, PA Department of Education, PA Department of Labor & Industry, U.S. Census Bureau, U.S. Bureau of Labor Statistics
48,920
Population 25+
Sources: Bureau of Economic Analysis, PA Department of Education, PA Department of Labor & Industry, U.S. Census Bureau, U.S. Bureau of Labor Statistics
Economy
$2,097,679,691
GDP (2018)
1,496
Total Number of Employers (2018)
30,533
Total Employed Residents (2018)
*5.0%
Unemployment Rate
*pre-COVID-19 unemployment rate
Top Private Employers
Employer
Est. Employment

Healthcare

Armstrong County Memorial Hospital

1,000

Mining

Rosebud Mining Company

820

Mining

Snyder Associated Companies, Inc.

800

Retail

Walmart Stores, Inc.

290

Manufacturing

Cook Vascular

250

Manufacturing

ATI

230

Utility

Keystone Generating Station

200

Manufacturing

Herkules Group

200

Financial

Bank of New York Mellon

180

Social Services

Family Counseling Services

150
Sources: Armstrong County Industrial Development Council, Pennsylvania Department of Industry & Labor, Pittsburgh Business Times, Pittsburgh Regional
Economic
Development
Contact: