Allegheny County
The most urban of the region's 10 counties is Allegheny, with Pittsburgh as the county seat. Home to a major transportation asset, Pittsburgh International Airport – connecting the region to the world – the county's airport corridor is where Neighborhood 91 is rising as an additive manufacturing epicenter first. Upriver from downtown Pittsburgh, Allegheny County's Mon Valley is home to nearly a dozen historic riverside towns. Ripe with redevelopment sites and opportunities for conversions/renovations, these towns have the space for enterprises looking to grow – manufacturing, creative industries and life sciences – yet are not far from the urban core and its assets.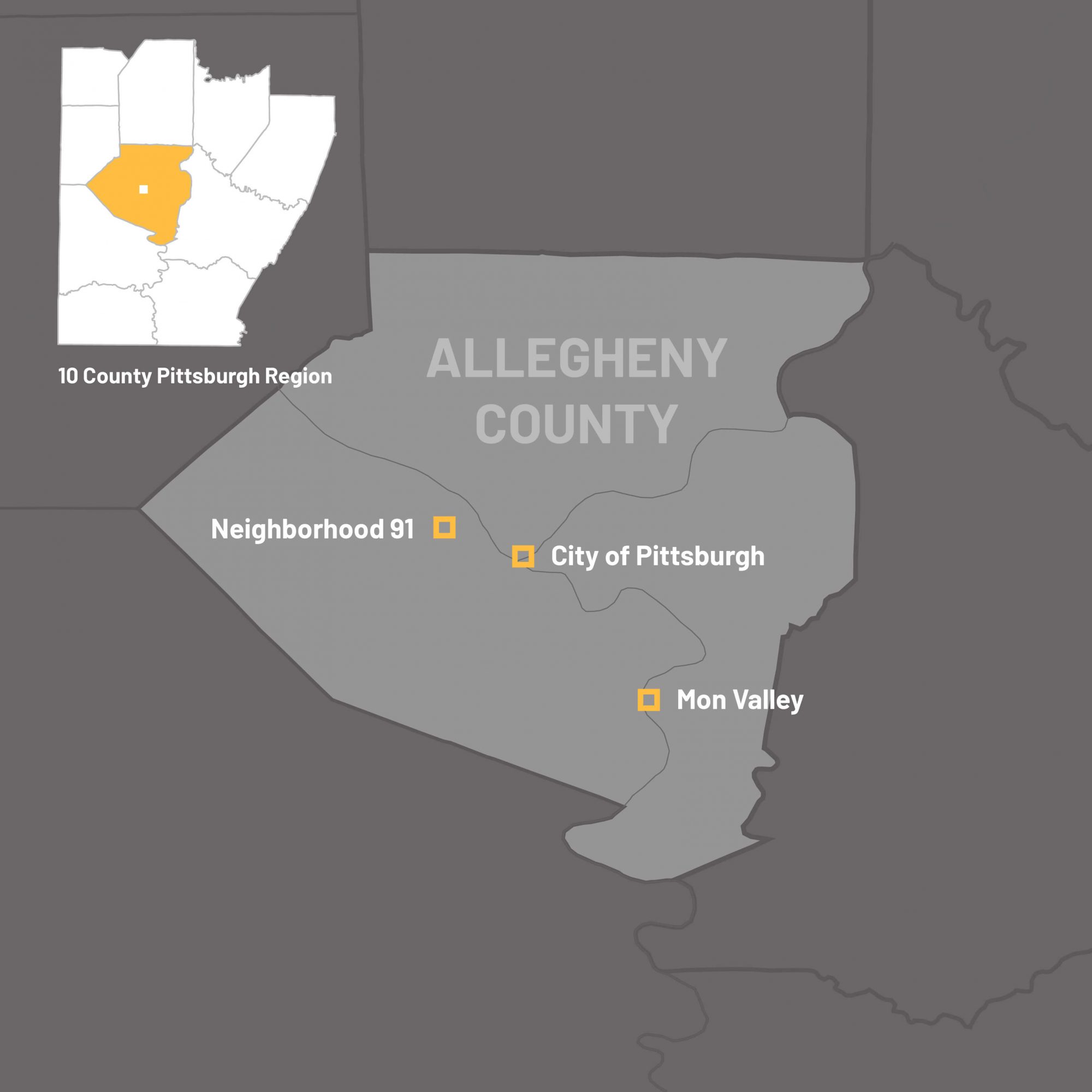 Key Real Estate Developments
Neighborhood 91
Development site on the Pittsburgh International Airport property, targeted towards the additive manufacturing sector. Approximately 200 acres with several parcels available for development of facilities related to additive manufacturing/3D printing. Learn more
Mon Valley
The Mon Valley includes nearly a dozen historic towns adjacent to the Monongahela River. Redevelopment sites, industrial parks, conversion/renovation opportunities.
City of Pittsburgh
Situated at the confluence of the Allegheny, Monongahela, and Ohio Rivers, Pittsburgh's Central Business District has long served as the center of commerce for our region.
City of Pittsburgh Real Estate Developments
Riverfront Sites (Carrie Furnace and McKees Rocks Multimodal Park, Allegheny County)
With hundreds of sites to choose from, we have space for you to make your mark in the Pittsburgh region. Check out two of our riverfront sites – Carrie Furnace and McKees Rocks Multimodal Park. Both in Allegheny County, these brownfield redevelopments have rail access and are conveniently located close to Pittsburgh's central business district.
Demographics & Workforce
1,218,452
Population (2018)
$56,333
Median Household Income (2018)
645,170
Total Labor Force (2018)
$60,805
Mean Earnings per Job (2018)
10,800
2017-2018 Public High School Graduates
77.4%
Post-Secondary Placement Rate
Sources: Bureau of Economic Analysis, PA Department of Education, PA Department of Labor & Industry, U.S. Census Bureau, U.S. Bureau of Labor Statistics
882,896
Population 25+
Sources: Bureau of Economic Analysis, PA Department of Education, PA Department of Labor & Industry, U.S. Census Bureau, U.S. Bureau of Labor Statistics
Economy
$100,457,891,533
GDP (2018)
35,367
Total Number of Employers (2018)
619,110
Total Employed Residents (2018)
*pre-COVID-19 unemployment rate
Top Private Employers
Employer
Est. Employment

Healthcare

UPMC Health System

41,800

Healthcare

Highmark Health

20,900

Financial

PNC Bank

11,900

Education

University of Pittsburgh

11,900

Retail

Giant Eagle Inc.

9,800

Services

BNY Mellon

7,000

Education

Carnegie Mellon University

6,100

Hospitality

Eat'n Park Hospitality Group

5,600

Manufacturing

US Steel Corporation

4,100

Healthcare

St. Clair Hospital

2,400
Sources: Allegheny County Economic Development
Economic
Development
Contact: