Industrial Sites & Commercial Spaces in Pittsburgh
Pittsburgh is an iconic city. It's firmly anchored in its legacy as the "manufacturer of the steel that built the modern world," but there's so much more to Pittsburgh than the steel industry. This region is comprised of 10 distinctive southwestern Pennsylvania counties with the city of Pittsburgh at its heart. The business parks and industrial sites in Pittsburgh along with the remaining region's footprint are roughly the size of the state of New Jersey, and the region is 2.6 million people strong.
Across the region, fast-growing, deep tech, research-driven investments are on the rise. These investments span AI/robotics and advanced and additive manufacturing as well as energy, life sciences, logistics, tech, transportation, healthcare, and more. Companies and talent choose Pittsburgh as a place to build the future and shape the world. Something big is happening here, and you will want to be a part of it.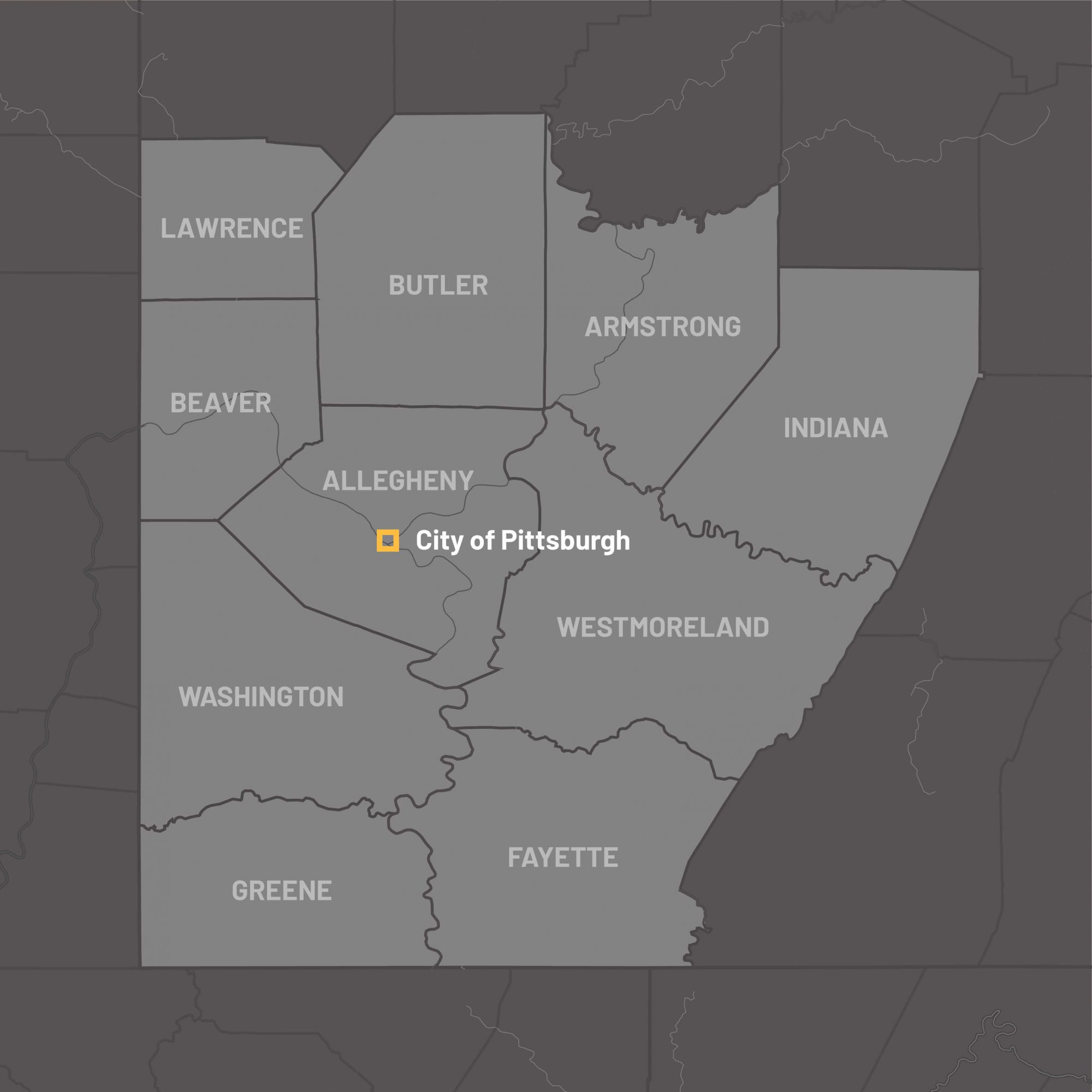 Industrial Sites and Real Estate
The Pittsburgh region has robust real estate options, from industrial properties to future focused redevelopments of historic sites. You'll be sure to find the right opportunity in the city of Pittsburgh or one of the many counties in our region.
Many companies have the perfect place to match their Pittsburgh industrial opportunities. These locations include Hazelwood Green – the region's last major brownfield now transformed as a riverfront hub of robotics and advanced manufacturing. Soon it will also be home to an impressive biomanufacturing facility rising under the banner of the University of Pittsburgh.
Across greater downtown alone, there are 1.8 million square feet of office space. Check out the highlights of our development opportunities which include warehouse spaces, industrial parks, and more. We have space for you to make your mark in the Pittsburgh region.
City of Pittsburgh
Allegheny County
Armstrong County
Beaver County
Butler County
Fayette County
Greene County
Indiana County
Lawrence County
Washington County
Westmoreland County
Looking to locate or expand operations? Take a closer look at some of the strategic real estate sites in southwestern Pennsylvania's large inventory of options. Whatever your real estate requirements, Pittsburgh can more than meet them.
Market Access
When your company is conveniently located on the riverfront, close to the Pittsburgh International Airport, or near world-class institutions like Carnegie Mellon University, business becomes a lot easier. Get access to distribution networks, people and locations from Oakland to Pittsburgh via highways, waterways, airways and railways.
Whichever way you need or want to move products and people throughout the Pittsburgh region, we have options for you.