The Future of Manufacturing: Why Re:Build Chose Pittsburgh
From the rise of factories marked by the industrial revolution to the introduction of mass production techniques in the early 20th century, America's manufacturing base has always been driven by innovation. In recent years, advancements in artificial intelligence (AI) and automation have transformed the advanced manufacturing process even further, creating new manufacturing opportunities and shaping the future of the industry.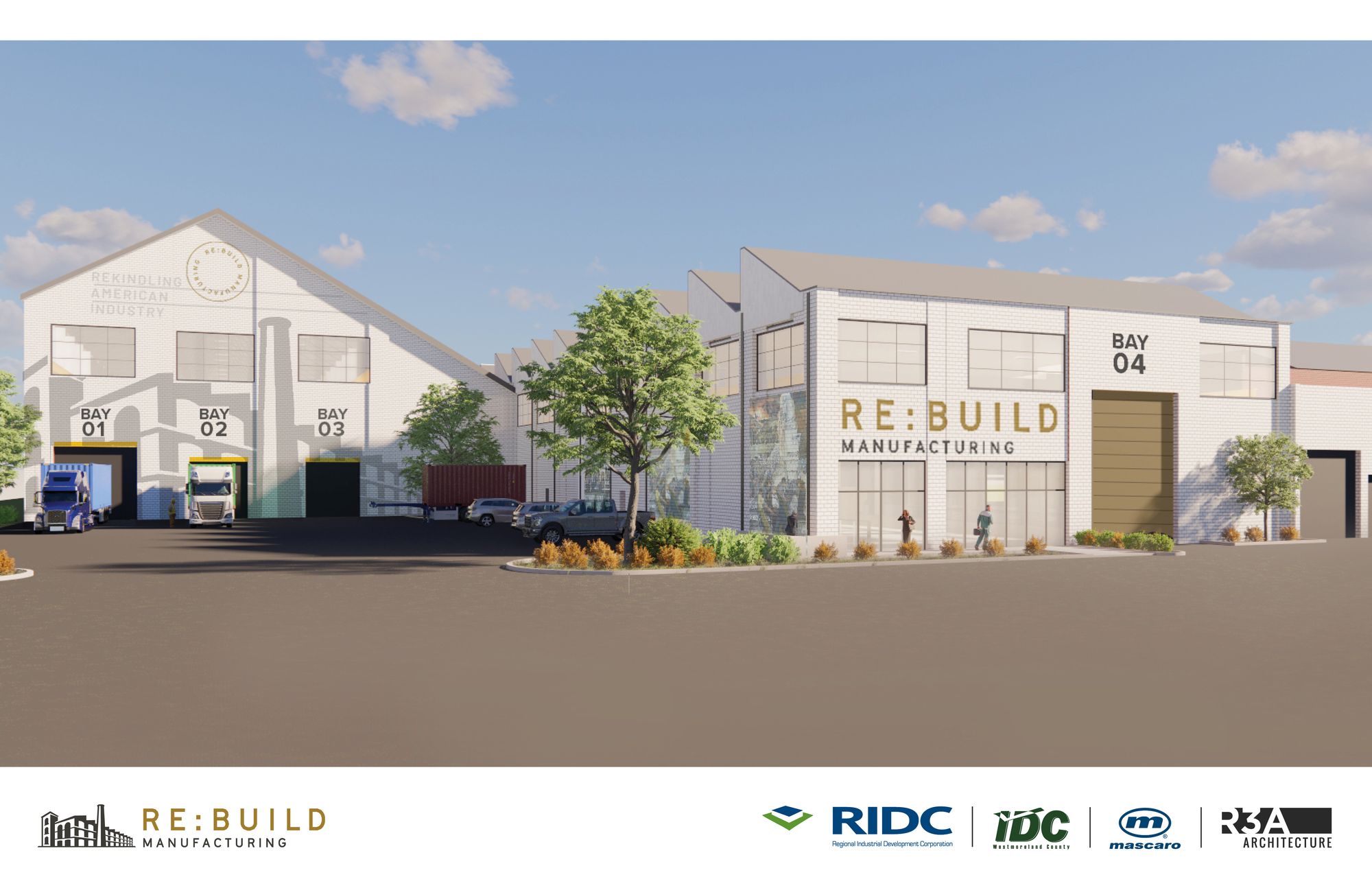 In Pittsburgh, Re:Build Manufacturing, an innovative and transformational manufacturing solutions firm, hopes to keep the momentum going. The Framingham, Mass.-founded company, along with Pennsylvania Governor Josh Shapiro, the Pittsburgh Regional Alliance, the Regional Industrial Development Corporation (RIDC) and the Westmoreland County Industrial Development (WCIDC) announced Re:Build's $81 million state-of-the-art manufacturing facility investment in mid-2023. Over the next three years, the new facility will create 300 high-quality jobs at New Kensington Advanced Manufacturing Park in Westmoreland County.
With 4,000+ manufacturing-related graduates in the region annually and more than 85,000 employed in the field, the Pittsburgh region is well-positioned to continue building on its rich manufacturing heritage.
Deep Manufacturing Roots
Re:Build's choice to locate its new regional headquarters in New Kensington only further solidifies southwestern Pennsylvania's prowess in advanced manufacturing — an industry supported by more than 2,700 businesses and $8.3 billion in capital investment from 2011-2021.
"The products we made here were pivotal to the building of the modern world," said Matt Smith, chief growth officer of the Allegheny Conference on Community Development. "This investment honors that legacy but puts a focus on the future of manufacturing, which is happening now in the Pittsburgh region. We look forward to the new opportunities Re:Build will spark – leveraging innovative technologies and new techniques – for the industry and the significant and exciting employment it will create for people here."
Several notable new manufacturing businesses are headquartered in Pittsburgh, including Siemens, Elliot Group and Mitsubishi Electric, and there are five Fortune 500 advanced manufacturing companies locally employing more than 8,000 people . In the past decade, all 10 counties of the Pittsburgh region experienced business expansions.
Strength in High Growing Industries
Re:Build's vision to revitalize the U.S. manufacturing base through cutting-edge technologies and operational efficiencies directly aligns with some of Pittsburgh's key, high-growth industries including life sciences, aerospace, robotics and energy. From commercial aircraft and unmanned systems to state-of-the-art AI and automation systems for pharmaceutical and life science companies, Re:Build's sector expertise provides intellectual property security, optimized supply chain performance and adherence to safety standards.
Utilizing a unique multidisciplinary approach that includes ideation, design and brand development, Re:Build successfully guides its customers through the entire process of commercialization. The company offers comprehensive end-to-end capabilities, from concept development and prototyping to manufacturing and scaling, providing seamless operational efficiencies and helping to keep costs contained.
Highly Skilled Workforce for New Manufacturing Jobs
The Pittsburgh region boasts a thriving manufacturing workforce that's 85,000 employees strong. This workforce is fueled by 79 academic institutions like the University of Pittsburgh and Carnegie Mellon University. Across disciplines, these institutions collectively confer over 45,000 degrees and certificates annually and provide approximately 4,000 graduates in manufacturing-related fields annually.
By locating its regional headquarters in Westmoreland County, Re:Build Manufacturing is tapping into the second largest county in the Pittsburgh region. The county's workforce reflects southwest Pennsylvania's robust industrial heritage — with thousands already employed at businesses like the Elliott Group, Kennametal and Alcoa.
In addition to the skilled and excellent talent already available in Pittsburgh, Re:Build is partnering with Westmoreland County Community College and other vocational training institutions in the area to enhance workforce development. They aim to create programs that equip students for success in the industry.
Support of the Commonwealth
Re:Build's new manufacturing center in Westmoreland County is not only helping to drive manufacturing innovations on a global scale — it's setting a precedent for building cooperative working relationships with state and local officials.
As part of its incentive package, Re:Build Manufacturing and RIDC received a funding proposal from the Department of Community and Economic Development (DCED) for a $1.5 million Pennsylvania First grant as well as a $7 million grant through the Redevelopment Assistance Capital Program. These programs will allow the company to increase job creation and investment within the commonwealth.
"To close this deal, the Shapiro Administration was able to tap into one of the very best incentives tools we have – the Pennsylvania First Program. Governor Shapiro wants to make Pennsylvania a global leader in economic development, which is why he proposed a $12 million funding increase for the program to bring even more exciting projects like this one to the commonwealth," said DCED Secretary Rick Siger.
Pennsylvania offers a range of incentives to manufacturing businesses that relocate to the state, including the Manufacturing Tax Credit (MTC) Program — which provides a tax credit to businesses that increase their annual taxable payroll by $1 million through the creation of new manufacturing jobs — and the Pennsylvania Economic Development for a Growing Economy Tax Credit Program — which provides a collection of tax credits for qualified business investments in specific critical manufacturing sectors.
In southwestern Pennsylvania specifically, the Pittsburgh Regional Alliance can assist manufacturing businesses in securing tax abatements, job creation tax credits and tax-exempt financing programs that foster growth and encourage innovation.
Next is happening now in the Pittsburgh region, with hundreds of advanced manufacturing companies like Re:Build benefitting from the Pittsburgh region's talent and resources while creating efficiencies and solutions to the world's most pressing challenges. Contact us to learn how we can help your business experience success and growth in the Pittsburgh region.