BlastPoint makes customer intelligence accessible to highly regulated industries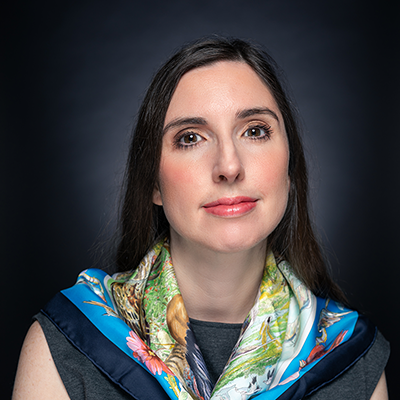 While $13T is projected to be gained through AI enablement over the next decade in North America, accessibility is a barrier to adoption for some industries, particularly the highly regulated. My co-founder, Tomer Borenstein, and I founded BlastPoint to make data-driven insights available to organizations for which this kind of technology is largely out of reach. BlastPoint's Customer Intelligence Platform makes AI accessible to utilities, credit unions, and other industries so they can improve customer experience, support sustainability initiatives and grow smarter in an unpredictable post-pandemic landscape.
Bringing Hidden Customer Stories to Light with AI
Customer intelligence (CI) is the process of gathering, analyzing, and then acting upon customer data in order for companies to become more customer-centric. Every company collects customer data regularly; many companies are collecting it constantly. Company databases house interactions that, when analyzed with AI and ML technology, tell distinct stories about how customers are responding to ads, requests for payment, educational outreach, new program promos, and more. At BlastPoint, we view CI as a way to bring the hidden stories of customer data to light, empowering companies to use these stories to make data-driven decisions about customer outreach.
In the era of personalization, CI has become fundamental to improving customer experience, boosting revenue, and growing business. Most consumers now expect a certain level of personalization, which is not feasible – especially for small teams – without CI. For many big-budget, enterprise-level companies, the decision to allocate budget to CI is a no-brainer: many have in-house data scientists and engineers to ensure data is formatted properly and to analyze it regularly, while others outsource this service to costly consulting firms each year.
Companies in some industries, though, face budgetary and regulatory obstacles that place CI just out of reach – even while their need for it is just as great, if not greater. For many U.S. utility companies, for example, allocating half a million dollars a year or more toward CI is impossible – especially if the estimated ROI of CI is unclear to company leadership. More than $20B in consumer utility debt since the beginning of the pandemic has constrained budgets even further, yet customer satisfaction scores are on the decline thanks to rising rates, severe weather related outages, and an uptick in collections activity. Additionally, most U.S. utilities are subject to state regulatory boards that place at times strict boundaries around how they're using and sharing customer data.
That means utilities, as well as other highly regulated verticals, are facing real obstacles to growth that will only accelerate as CI becomes more and more central to everyday business operations.
This is where BlastPoint steps in. We work with internal data as-is, and our rigorous data security practices enable companies to meet regulatory protocols. Our easy-to-use Customer Intelligence Platform places AI-powered insights at the fingertips of business users at flexible price points.
As a result, our partners have been able to reap the benefits of CI and grow their business despite budgetary and regulatory hurdles. They have utilized our platform to achieve big increases in digital engagement and program enrollment, to launch new products and communication channels effectively, to understand marketing sizing, to find and convert new customers, and more. We're proud of the fact that they've been able to achieve these objectives quickly, with less resource allocation up front, and while working within regulatory constraints for data privacy.
We're also really excited that they've been able to utilize our technology to increase environmental sustainability, combat climate change, and promote energy equity in the process.
Predicting Electric Vehicle Adoption and Promoting Energy Equity
BlastPoint sets ourselves apart by providing objective-driven CI to our partners. "Objective-driven" means that we train our models to prioritize a company's specific goals, which increases the effectiveness of their results. An objective that we've been helping utility partners achieve over the last few years is growing EV adoption within their operating territories.
For electricity providers, beneficial electrification – or, the process of converting more power use from fossil fuels to electricity – is a potential boon, especially given the high amount of unpaid consumer debt they're carrying as a result of the pandemic. Growing EV adoption is one part of that process that utilities across the U.S. are now focusing on, especially given the $7.5B allocated by President Biden's infrastructure bill for EV charging infrastructure and the historically high prices at the gas pumps. EV and PHEV sales are soaring, but there are still many roadblocks to adoption across the country, particularly in low-income rural and urban areas. In order to get more customers to adopt EVs, utilities need to be able to understand which customers are most likely to adopt now, soon, and later – and how best to reach them.
To understand EV adoption patterns, we used our proprietary technology to identify Green (ready to adopt now), Yellow (ready to adopt soon), and Red areas (roadblocks to adoption) across the US based on key data indicators. These include demographic and behavioral attributes such as income, green affinity, and housing type. We then applied this EV adoption propensity model to the entire U.S. at the Census Tract level.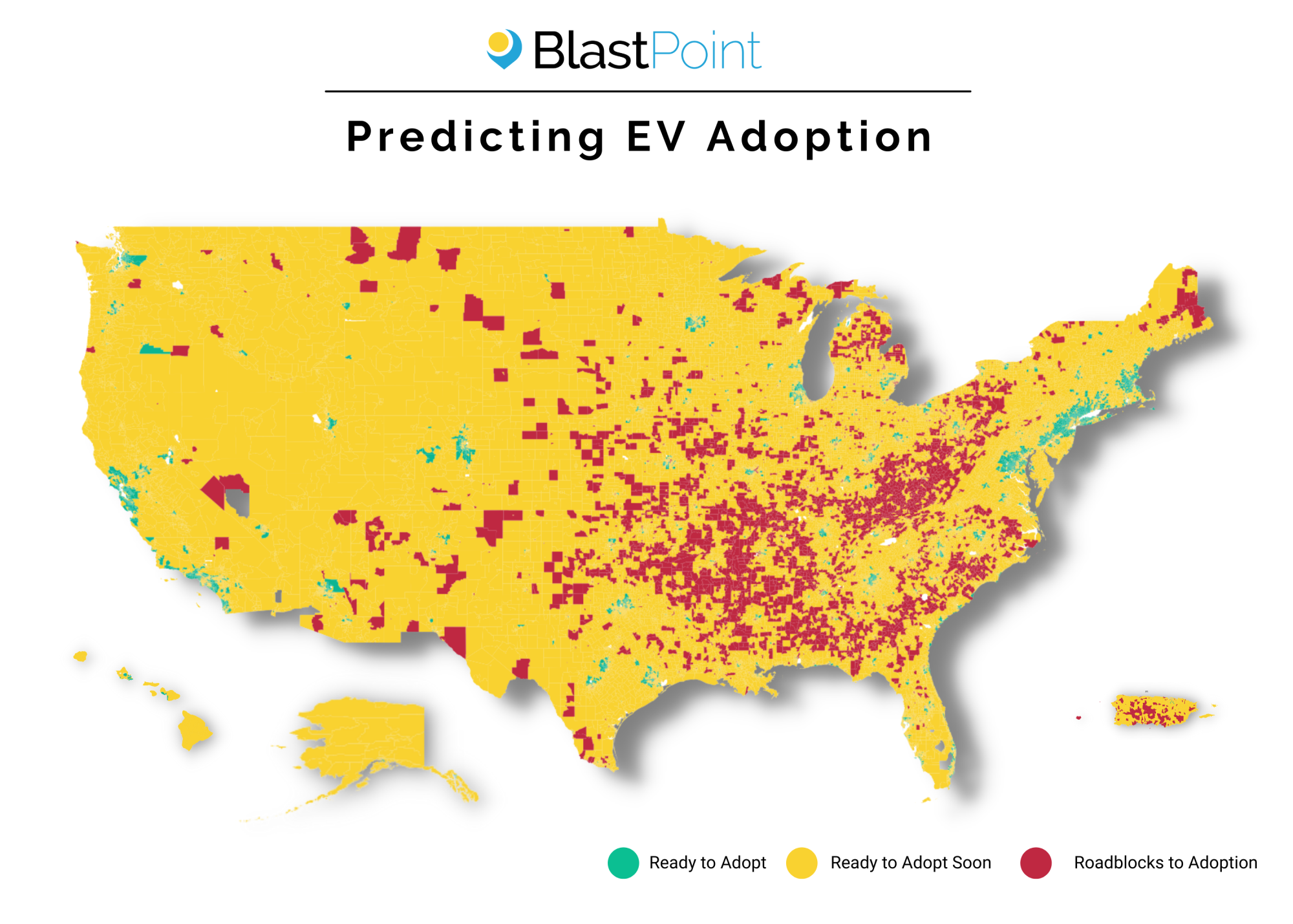 When looking at EV adoption at the national level, as well as at the local level, a pattern emerges that we like to call the "suburban donut": suburban areas around large and mid-sized cities in essentially every region of the country are where we find the most consumers ready to adopt EV now. On the other hand, rural areas and, to a lesser extent, lower-income urban areas are where we find consumers who are experiencing significant roadblocks to adoption, due to infrastructure, economics, and values. These are "EV charging deserts": the places where very little charging infrastructure exists and where intervention will be needed in order to ensure EV equity.
Our partners are utilizing our EV model in a number of ways to grow adoption. Through our platform, they are able to identify customer propensity for EV adoption at the household level. They can also explore major demographic characteristics for Green, Yellow, and Red customers, and then compare each segment in order to tailor relevant EV-related outreach to every customer. One of our partners saw a 55% lift in customers signing up for their EV rebate program simply by targeting Green customers in their footprint. They were also able to increase sign ups for their EV variable rate program by nearly 100% and visits to EV-related web resources by over 300% by targeting both green and yellow customers.
EV adoption is viral in nature, and highly visible, publicly available charging stations are key to long-term, equitable growth. BlastPoint's EV model also enables our partners to better understand Red customer segments, to engage in equitable infrastructure planning, and to form key community partnerships that drive adoption in Red tracts.
Our goal six years ago of making CI accessible to a more diverse array of industries has come to fruition in ways we never anticipated. Back in 2016, for example, EV adoption seemed very far off, and we never imagined that our technology would be helping to expand it. However, it isn't surprising that our vision to broaden access to data-driven insights landed BlastPoint here, because when you open up AI and ML to more organizations, you also expand its possibilities for doing good in the world.